Severe weather leaves thousands without power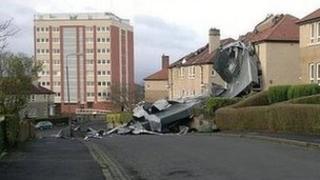 Engineers are working to reconnect power to thousands of homes cut off by violent storms which hit the UK.
Two men were killed on Tuesday as winds of more than 100mph disrupted travel and caused damage around the country.
In Scotland 12,500 homes and businesses are still without electricity after power lines were damaged.
In England, Southern Electric said around 4,000 properties were affected by power cuts across its area - from the Isle of Wight to Oxfordshire.
BBC forecasters said conditions would not be as severe as that seen on Tuesday but it would become increasingly windy throughout the day.
Winds are expected to peak into the evening and the early hours of Thursday - with gusts of up to 60mph in Pennines in England and 60 or 65mph in the Bristol Channel.
Derek White, who lives in a village near Falkirk in Scotland, told the BBC he had been without power since 09:00 GMT on Tuesday.
Mr White, a company director, said: "We do have power cuts from time to time but this has been the longest one in 22 years.
"The local fish and chip shop is doing a roaring trade - they are in an area of the village where there is power."
Scottish Power said Tuesday's gales had caused more faults on the network than would normally be seen in three months. Some 91,000 properties had since been reconnected, the firm said.
It said it hoped to reconnect a further 6,000 properties, of the remaining 12,500, on Wednesday evening.
The Met Office has issued warnings of rain for much of Northern Ireland, Wales, Scotland, north-west England and Yorkshire and Humber from 09:00 GMT on Wednesday.
There are still warnings of disruption on the rail network in Scotland, after trees and debris blocked many lines, and commuters have been asked to check their journeys before travelling.
On the roads there are icy conditions in central Scotland and snow on higher stretches of the A9. In East Lothian, the A1 was closed at Dunbar because of an overturned lorry.
Speed restrictions have been put in place on the Kessock and Forth Road Bridges in Scotland due to high winds.
The electricity network was damaged in all parts of Northern Ireland but there are currently fewer than 100 homes still without electricity there.
A man in his 50s was killed in Kent on Tuesday when a tree collapsed on his van, and a crewman died after being injured on board a tanker in the English Channel.
The enhanced content on this page requires Javascript and Flash Player 9
Map Key
Land
Cloud
Lakes, Rivers & Sea
Fog
Light
Heavy
Frost
Light
Heavy
Pressure Fronts
Cold
Warm
Occluded
Rain
Light
Heavy
Extreme
Snow
Light
Heavy
Temperature tab only
Temperature (°C)
More details from BBC Weather