900 police and community officers have criminal record, data shows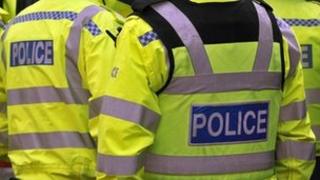 More than 900 serving police officers and community support officers have a criminal record, official figures show.
Most are for traffic offences but there are also convictions for burglary, drug supplying, causing death by careless driving, robbery and domestic violence.
Senior officers include two detective chief inspectors and a chief inspector, all from the Metropolitan Police.
The figures were released by 33 of the 43 forces in England and Wales after Freedom of Information requests.
Dangerous dog
The statistics, obtained by the Press Association, show that at least 944 serving officers have a conviction, with some forces unable to provide figures for offences committed before joining the police.
Cambridgeshire, City of London, Gloucestershire, Northamptonshire, South Wales, West Yorkshire, Warwickshire and Wiltshire did not provide figures on the grounds of cost.
Cleveland did not reply to the request and Durham only provided partial information.
Britain's largest force, the Metropolitan Police, has more than 34,000 police and community support officers. It said 356 officers and 41 support officers had convictions.
It was followed by Kent (49 convictions), Devon and Cornwall (44), Essex (42), South Yorkshire (35), Hampshire (31) and West Midlands (27).
The convictions include:
Devon and Cornwall - Pc convicted of burglary as a teenager
Essex - Special constable convicted of stealing car number plates, putting them on another vehicle and obtaining petrol without paying
Hertfordshire - Sergeant convicted of dangerous driving
Kent - Pc convicted of perverting the course of justice in 1998
Merseyside - Five officers convicted of assault
Norfolk - Pc convicted of causing death by careless driving
North Wales - Officer convicted of forgery
Staffordshire - Pc convicted of keeping a dangerous dog
Surrey - Detective constable convicted of obstructing police officers
They also include a South Yorkshire officer convicted of fishing without a licence.
The Home Office issued guidelines in 2003 saying that police officers should have "proven integrity" because they are vulnerable to pressure from criminals to reveal information.
The guidance says forces should reject applicants with convictions for serious offences unless there are "exceptionally compelling circumstances".
The Met Police careers website says a conviction or caution "does not necessary bar" potential applicants from joining the service.
"A candidate's age at the time of offence, the number of years that have elapsed (normally 5 years must have elapsed for recordable offences) and the nature of the offence is taken into account before a decision is made," it adds.