David Hockney appointed to Order of Merit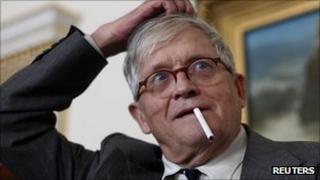 British artist David Hockney has been appointed a member of the Order of Merit by the Queen - despite turning down a knighthood in 1990.
The Order of Merit is presented to high achievers in the arts, learning, literature, science and other areas such as public service.
Hockney, 74, has said he turned down the chance to become a sir because he "does not care for a fuss".
"I don't value prizes of any sort. I value my friends," he said.
The order, created by King Edward VII in 1902, is restricted to 24 members and rare additional foreign recipients.
The Order of Merit does not come with a title but members are given a red and blue enamel badge, which reads "For Merit".
When a member dies the badge is returned to the Queen, who receives the next-of-kin personally.
Yorkshire return
In 2003, Hockney told Bradford's Telegraph & Argus paper that prizes "of any sort are a bit suspect".
He said had turned a knighthood down because, at the time, he had been living in the US and "did not think it was for me but I don't have strong feelings about the honours system".
He was speaking after information about people who had turned down honours was leaked to the Sunday Times.
Back in September, he told BBC Radio 4's Front Row programme he had turned down a request to paint the Queen because he was "very busy".
He said she would have made "a terrific subject" but that he preferred to paint people he knew.
Hockney, one of the best-known figures from the 1960s British pop art movement, first attracted interest while studying at the Royal College of Art.
His figurative drawings and paintings gave him a reputation as a figure who bridged high art and pop art while his blond, bespectacled, youthful appearance made him one of the faces of the decade.
In recent years, Hockney has returned to his native Yorkshire after spending years in California, where he has been inspired by light and space with his paintings of swimming pools proving to be some of his most memorable works.
His Beverly Hills Housewife - which shows Californian arts patron Betty Freeman in a pink dress standing on the patio of her home - sold in 2009 for an artist record $7.9m (£5.1m) at Christie's New York.
His forthcoming landscapes exhibition in London, A Bigger Picture, will feature some of his more recent works embracing technology.
The pro-smoking campaigner's exhibition, which opens on 21 January at the Royal Academy, is inspired by the East Yorkshire landscape of which he has said: "I'm aware I've got a very good subject, and with each season, I begin to see more."
The exhibition will include a display of iPad drawings and a series of films produced using 18 cameras, displayed on multiple screens.
In 2009, he said: "One morning recently, I made a drawing on my iPhone while I was still in bed, of flowers through the window, and the sunrise, which I could then [email] to 12 people, without it ever having been photographed or printed, and that's very new."
Meanwhile, former Australian prime minister John Howard has also become a member of the Order of Merit.
Mr Howard, Australia's second-longest serving prime minister, served in office from 1996 to 2007.