Council home sub-lets may be made criminal offence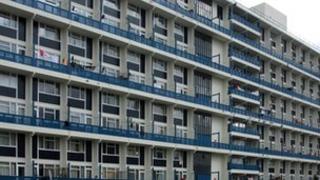 Plans to make it a criminal offence for council tenants to sub-let their homes are to be unveiled by the government.
A consultation will also detail plans to force thousands of tenants earning £100,000 or more to pay market rates.
An estimated 160,000 tenants sub-let their homes, which is not currently an offence.
Ministers call it a "scandal", and the BBC's Robin Brant says they have "long talked of tougher rules". Labour said more affordable homes had to be built.
Housing Minister Grant Shapps said: "For too long this country has turned a blind eye on the multi-billion pound problem of housing tenancy fraud and abuse.
"This year the coalition is determined to end that scandal. Why should someone on a six-figure income enjoy a fantastically subsidised council rent, whilst those in real need languish on the waiting list?
"And why is it so easy to get away with sub-letting your council house at market rent and simply pocketing up to £1,000 a week at taxpayers' expense?"
He told the BBC a new criminal offence was needed because "if the sanctions themselves are so weak, the worst that happens is you get that council home taken away from you if you're found out... we need to change that."
Waiting lists
Mr Shapps said he believed the money raised from a clampdown could be worth tens of millions, of which "every penny" would be spent on building houses "for people who are actually in need of that housing".
The coalition is due to launch new consultations ahead of legislation, with any savings pledged to go towards building new social housing.
The Labour Party previously published its own plans to tackle social home sub-letting.
Labour frontbencher Maria Eagle said Mr Shapps's latest announcement was "trying to hide the fact that he has presided over a 99% fall in the last six months in new housing [construction project] starts".
"I think the issue about affordable housing is that there isn't enough of it," she said.
"Yes, you have to crack down on abuse," she said, but added: "What we really need to see is more social housing being built - that's what Grant Shapps isn't doing."
BBC political correspondent Robin Brant said there was huge demand for council homes, with about 1.8 million families on waiting lists.
In England and Wales, about eight million people currently live in four million council or housing association homes.
'Key failing'
The government wants to give local authorities powers to force wealthy tenants, who earn over £100,000, to pay rents nearer to market rates. If they refused, they would face eviction.
"The number involved is believed to be relatively small - just 6,000 - but they are symbolic of what ministers believe is a key failing in social housing," said our correspondent.
A Department for Communities and Local Government spokesperson said: "Ministers have been clear of their commitment to tackle tenancy fraud, which costs this country billions of pounds and means people who could otherwise be housed are losing out.
"That's why in addition to a national crackdown, which has been backed with £19m government cash, we will shortly publish proposals for consultation to criminalise tenancy fraud."