Secret service pressed BBC to censor Panorama - papers
By Gordon Corera
Security correspondent, BBC News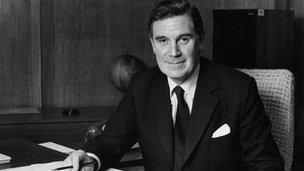 The head of the BBC personally intervened to censor a 1981 Panorama programme on Britain's intelligence agencies, official papers reveal.
Documents from the National Archives show the then director general, Sir Ian Trethowan, was put under pressure amid concern over the planned documentary.
The papers show Sir Ian told the press no-one from the government had seen the film or put pressure on the BBC.
The documents however reveal he in fact met the heads of MI5 and MI6.
Sir Ian also asked for a video cassette of the original 100-minute programme and showed it to Bernard Sheldon, then the legal adviser to MI5, who suggested a large number of cuts to be made.
The director general then went to the BBC's head of news and current affairs and asked him to reduce the programme by half, including making the cuts suggested by MI5.
"Mr Sheldon has in my judgement done a very good job with Sir Ian Trethowan," one document for Prime Minister Margaret Thatcher, marked "secret and personal", stated.
In another note to the prime minister, Cabinet Secretary Robert Armstrong said that "it looks as if Sir Ian Trethowan has not managed to clean the programme up to the extent we might have hoped".
The actual content now looks relatively tame compared to the kind of press coverage given to MI5, MI6 and GCHQ in the modern era but at the time the institutions were barely acknowledged to exist and shied away from anything about them being brought into the public domain.
So as soon as word emerged that Panorama was planning this programme, concerns were raised at the highest levels of government.
There were fears the programme would be unbalanced and would damage the morale and effectiveness of British intelligence and Mrs Thatcher was personally opposed to any programme - even one which simply looked at the question of accountability.
The government considered - but rejected - the idea of using a "veto" it had in the BBC charter to ban any programme from being broadcast, recognising such a move would be highly controversial and that the contents would almost certainly be leaked anyway.
One scribbled note indicates that Sir Ian was considered "weak" by Number 10 Downing Street, while at the same time the programme-makers at the BBC felt that he was simply doing the government's bidding for them.
Related Internet Links
The BBC is not responsible for the content of external sites.