Getting off the streets and into a doctor's surgery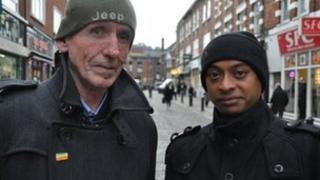 Popping to the doctor, dentist or optician is a straightforward task for most people - but if you're homeless, it can be a daunting experience. Now the Homeless Health Peer Advocacy scheme, run by former rough sleepers, is helping people off the streets and into waiting rooms.
Darren Scott is a 39-year-old homeless Londoner from Harrow who has been partially deaf since birth, has poor dental health and lately has developed a swollen liver.
"The liver's because of excessive drinking," he says. "It swells up and gets quite painful."
Unsurprisingly, he sometimes needs medical attention, but before he met members of the Homeless Health Peer Advocacy (HHPA) getting treatment was not easy.
The HHPA sees formerly homeless people help those who are currently homeless to access regular healthcare, such as doctors, dentists and opticians.
These helpers, who undergo intensive training, are known as advocates and visit hostels and day centres for the homeless, sometimes also approaching rough sleepers directly, giving them hands-on help and advice on how to get medical treatment.
The alternative is for the homeless - anyone in temporary accommodation or sleeping rough - to visit accident and emergency wards at hospitals, whenever the pain just gets too bad.
This is not only a drain on those resources, but, as Darren puts it, "you have to wait for hours for someone to see you" often while feeling chronically ill.
Hygiene issues
Darren's been living in a hostel for about a year, and before that spent seven years sleeping rough. He now has a hearing aid but says his previous one was stolen, so he went five years without hearing properly.
He got his latest one with the help of the HHPA scheme.
The HHPA is run by Groundswell, a charity which develops self-help initiatives across the country with the homeless or those living in poverty. Its work in the London borough of Westminster is done in partnership with Westminster Primary Care Trust.
When you are sick and living rough, there can be all sorts of barriers between the street and a doctor's surgery, whether real or imagined.
Dennis Rogers, 52, from Bromley, who describes himself as having a "lived-in face", was homeless for a total of 10 years, partly a result of his alcoholism, before getting into secure accommodation in 2000.
He began volunteering with the HHPA scheme in August 2010 - it began life in May of that year - and has now been employed by Groundswell in a part-time capacity.
"Homeless people often think they aren't eligible for healthcare," he said.
"If their hygiene is poor then they're too embarrassed to go sit in a waiting room with other people. In my day, if you weren't one of the first 50 to visit a day centre, the water was cold and you didn't bother with a shower.
"If they do get to the waiting room and they're nervous, got mental health issues or they're heavy smokers, they might go outside and then their name gets called so they miss their appointment."
Street experience
Advocates like Dennis offer guidance and moral support for the homeless sick. He explains that he and his colleagues will help them make appointments, especially for those who might be uncomfortable using the phone, or assist with form-filling. Many homeless, like Dennis, are dyslexic.
He offers other examples as to why the homeless do not get treated - some alarmingly simple.
"One man was able to get to the doctor's but didn't trust his dog with anyone. So I waited outside the surgery with it while he went inside.
"Another one wanted to take his alcoholic drink with him - he didn't actually take a drink, he just wanted it there as kind of security blanket. So I went with him and explained that to the surgery staff."
Ala Miah, 33, from East London, has been a HHPA volunteer for about four months. He was homeless for about six years "on and off" until finding secure accommodation two years ago.
He heard about the Groundswell scheme while receiving treatment for his alcoholism and decided to get involved himself, after undergoing a 12-day detox which he says has left him "clean".
Ala explains that the advocates pop into places like hostels and chat to the homeless, engaging in general conversation to build up trust.
"Once we explain that we were homeless ourselves they feel like they can talk to us about any issues they might have. We can prove to them that we are concerned about their health and homelessness and they realise that we're here to help."
Ala, who is not currently employed but does other volunteer work as well, says he gets great satisfaction out of his work with the HHPA.
"I like to help and these people need attention and help. I can offer that. Because I've been homeless I can relate to them."
Darren has been so touched by the help he's received through the scheme that he hopes to begin volunteering for it himself in 2012.
"You get a good feeling inside because you know there's someone who cares, even if they don't know you," he said.
"Then again, even when you're poorly and on the streets, there's always someone worse off than you."