Motorway crash closures to be cut by 3D laser scanners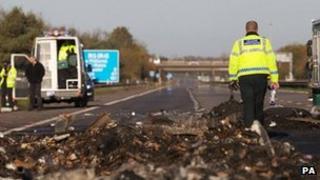 New technology is to be employed to cut down the time that motorways are closed after crashes, the government says.
A £2.7m deal will allow 27 police forces across England to get 3D laser scanning technology.
This quickly makes a 3D image of the crash site, instead of investigators surveying multiple sections of a scene.
Roads Minister Mike Penning said the technology will benefit drivers "by reducing incident clear up times by 39 minutes on average".
There were more than 18,000 full or partial motorway closures in 2010, lasting for more than 20,000 hours in total.
The average road closure after a serious crash is said to last for about six hours.
'Economic disruption'
With the new technology, the digital image of the site can be viewed on a computer screen remotely, allowing investigators to take measurements of where vehicles are in relation to each other and examine other important evidence.
Mr Penning said the scanners would be "rolled out quickly where they are needed most".
He added: "There is nothing more frustrating than being stuck in a traffic jam for hours on end.
"But even worse than that is the shocking £1bn cost of those lost hours for our economy. That is why we are determined to improve the clear-up of accidents so we can get our motorways reopened as quickly as possible.
Assistant Chief Constable Sean White, of the Association of Chief Police Officers, said: "We welcome enormously this important funding opportunity.
"It will make a very important contribution to properly investigating fatal and life-changing collisions while always being mindful of the level of economic and other disruption that closures of the strategic road network inevitably cause."