Prince Philip making 'good progress' in hospital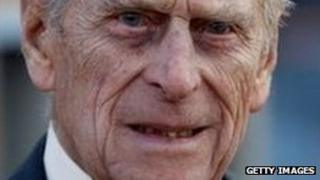 Prince Philip is remaining in hospital for a fourth night.
The Duke of Edinburgh is making "good progress" as he recovers in hospital from a heart procedure, Buckingham Palace says.
The 90-year-old has been in Papworth Hospital, Cambridgeshire, since he had a coronary stent fitted on Friday.
"He remains in hospital under observation and in good spirits," the palace said on Monday, but there was no word on when he might be discharged.
He was admitted to hospital after suffering chest pains.
Usually on Boxing Day he would lead the Royal Family's shooting party.
As it is a private family event, Buckingham Palace said it would not comment on this year's event, although it was expected to go ahead without him at the Queen's Sandringham estate in Norfolk.
On Christmas Day evening, the duke was visited in hospital by six of his grandchildren.
The Queen and his four children had visited him on Christmas Eve.