Daily Mirror columnist Sue Carroll dies after cancer battle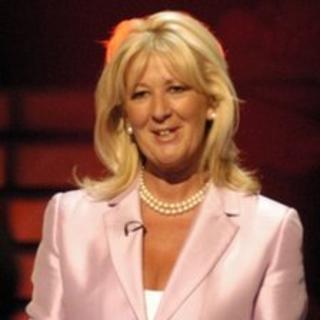 Colleagues of Daily Mirror columnist Sue Carroll have paid tribute to her following her death at the age of 58.
Carroll died at home on Christmas Day evening after an 18-month battle with cancer, the newspaper said.
The paper's editor Richard Wallace described her as "the heart and soul of the Daily Mirror".
In March, Carroll, also a pundit on the Alan Titchmarsh Show, wrote a frank account of her fight against pancreatic cancer in the newspaper.
Wallace said although colleagues knew of her illness, her death had still come as a "great shock".
'Great friend'
"Sue had faced her long and painful illness with enviable fortitude," he said.
"Until the final few days she was still doing what she loved the most: reading the papers and giving her inimitable thoughts on the world around us - with, of course, the odd no-nonsense rant thrown in.
"Sue was part of the heart and soul of the Daily Mirror - and had a direct line to our readers. But she was also very close to some of us personally. So first and foremost we grieve a great friend."
In a tweet, associate editor Kevin Maguire described Carroll as "the Queen of Columnists".
Carroll's column was a weekly fixture in the Daily Mirror for 13 years.
Written under the banner "Warm, witty and straight to the point... Britain's best columnist", it featured her thoughts on society and values, popular culture and celebrity.
'Warm and witty'
Born in Newcastle, Carroll moved to London in the 1970s, where she worked on magazines and newspapers, including the Sun and the News of the World, before settling at the Mirror.
In a piece about her cancer battle published in the newspaper in March she spoke of the moment she learned of her diagnosis.
"I suspect we all harbour fears of how we might react to being told that, in life's great lottery, we've got the disease neither money nor the best brains in medical science can guarantee to permanently eradicate.
"I always imagined I'd rant and scream: 'Why me?'," she wrote.
"Instead, I froze and stared at the floor as my doctor revealed the results of a CT scan. There were no ifs, buts or arguments - this technology is cruelly accurate."
In a video message to readers, she said writing about her illness had helped her.
"It's cathartic to get it off my chest," she said.
'Inspired and grateful'
The columnist also paid tribute to her family and friends, and hit out at cuts to care services.
"As I sat with close friends and my other half, trying as ever not to reveal his concern as we waited for the results of my most recent scan, I realised how lucky I was to have a hand to hold and a shoulder to cry on.
"Even in these enlightened times, people endure this disease in isolation," she wrote.
"It's a thought that makes me shudder. And shake with fury when I see so many essential carer services being scrapped on a daily basis."
She said she was "inspired and grateful to the dedicated and immensely professional staff" at London's Royal Marsden Hospital, where she underwent chemotherapy treatment.
'Very touching'
Carroll was cheered by fans when she made an emotional return to the Alan Titchmarsh Show in March, eight months after she was diagnosed with her illness.
She told viewers: "At times like this you think, 'what I could do with now is an angel'. You suddenly find you are surrounded by them - in the shape of your friends.
"You think you can count friends on one hand, but you have no idea how many people love you. It's been very touching."
Carroll was known for her witty, but sometimes cutting, approach.
On actress Martine McCutcheon, for example, she wrote: "When a former EastEnders star says they're off to Hollywood, it means Hollywood nightclub in Romford."
In 2002, supermodel Naomi Campbell claimed, during an unrelated privacy case at the High Court, that a description of her as a "chocolate soldier" in an article by Carroll was a deliberately racist remark, a claim Carroll denied. She said it was used to mean Campbell was not very effective - as a chocolate soldier would wilt in the heat of battle.
The judge said Carroll's choice of language could be construed as racist. But the appeal court later threw out the privacy case and overturned the award of £1,000 for "aggravated damages" related to Carroll's comments.