Minister Jim Paice says Hunting Act is unworkable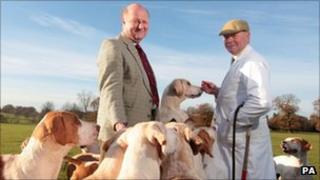 The Hunting Act "simply doesn't work", Agriculture Minister Jim Paice has said, as hundreds of hunts gathered for their traditional Boxing Day meets.
On a visit to hunt kennels in Peterborough, the Conservative minister said he supported hunting with dogs.
He added that the coalition agreed there would be a vote on whether to repeal the act when there was "time in the parliamentary calendar".
The 2005 act makes it illegal to hunt wild animals using dogs.
Hunt supporters describe the act as expensive and failed, and are calling for it to be repealed. But opponents say there is no desire among the general public to bring it back.
Ahead of the annual hunt in Milton Park, Peterborough, Mr Paice, whose ministerial portfolio includes hunting, said: "The current law simply doesn't work.
"I personally am in favour of hunting with dogs - and the coalition agreement clearly states that we will have a free vote on whether to repeal the act when there is time in the parliamentary calendar to do so."
Alice Barnard, chief executive of the Countryside Alliance, said 250,000 people were expected to come out to support their local hunt.
It was a point of pride for rural communities across the UK that, despite prejudice, hunting remained as strong as ever, she added.
Tracy Casstles, also from the Countryside Alliance, said the act was "confused" and a waste of police time, as she insisted hunts tried to work within the law.
Hunt saboteur Michael Haines, however, said he has seen the law being broken "every single week".
League Against Cruel Sports chief executive Joe Duckworth said it was "utterly appalling" that people could think "chasing a wild animal with hounds to the point of exhaustion and then taking pleasure in watching it being killed was acceptable".
"This cruel blood sport has thankfully been made illegal in this country and there is absolutely no desire among the general public to bring it back."
North Devon Liberal Democrat MP Nick Harvey said the law was "dangerous" because of the impracticalities of trying to enforce it.
Devon and Cornwall Police have never issued any cautions, fines or convicted anyone associated with hunting since the ban came into effect, and Mr Harvey said: "I think Parliament has passed a piece of legislation that it is not possible in practice to implement, and I think that's dangerous.
"The message that sends out is that some people's activities are beyond the arm of the law."
But Labour's Mary Creagh, the shadow environment secretary, rejected calls to change the current law. She said: "There is no place for animal cruelty in a civilised society and most people back Labour's ban on hunting wild animals with dogs.
"People are worried about their incomes falling, prices rising and losing their jobs, yet this out of touch Tory-led government want to bring hunting back."