Army chief in pre-Christmas visit to Afghanistan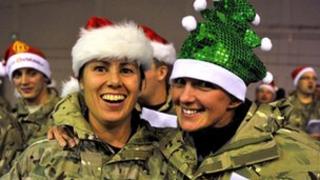 The head of the British Army, Gen Sir Peter Wall, has paid a pre-Christmas visit to UK forces in Afghanistan to thank them for their work.
At Camp Bastion in Helmand province, he met servicemen and women who will be spending the festive period thousands of miles away from their families.
Gen Wall expressed his gratitude for their commitment.
It came after a helicopter carrying UK troops made an emergency landing after coming under fire on Friday.
The Nato-led International Security Assistance Force (Isaf) said the forced landing, which occurred safely and without incident, took place near an Afghan National Security Force checkpoint in Nahr-e Saraj district, southern Helmand Province.
Isaf said the the aircrew were recovered unharmed.
Family support
While families back in the UK gather for their usual festive celebrations, for the 9,500 troops in Helmand this is a normal working weekend.
Gen Wall said: "It is tough and one of the things about the military is that you don't get to decide where you spent Christmas yourself and we're extremely conscious that we make very big demands on our soldiers, sailors and airmen - and marines.
"We depend on the support that they receive from their families in order to make sure that we can prosecute our operation out here alongside our Afghan partners."
Lt Col Gordon Mackenzie, spokesman for Taskforce Helmand said some Christmas spirit was being squeezed round a very busy time, to help people cope with being away from home.
"It is a hardship but we have very good arrangements for keeping in touch and fantastic support from the people back home," he said.
140 turkeys
Despite the dust storms of recent days, the RAF has put on extra flights so everyone who was due to go home for Christmas has done so in time.
While work goes on as usual, the servicemen and women will be given extra time to phone home and the army chefs are preparing Christmas dinner, involving 140 turkeys and 1,000 kilos of potatoes.
On Tuesday, Prime Minister David Cameron made an unannounced visit to UK troops in Afghanistan, although the dust storms meant he was unable to fly to Camp Bastion.
Instead, he met British Tornado pilots at the Nato base in Kandahar.
The trip came as the government said it was creating a cabinet committee with responsibility for the armed forces.
At a press conference in Kandahar, the PM discussed the role the committee would play in a new cross-government effort to improve the welfare of British troops, and repeated his commitment that the UK's combat role in Afghanistan would be over by the end of 2014.
Some 500 British servicemen and women are due to be brought home from Afghanistan in 2012 and the PM indicated that more would leave in 2013.