Sydney-to-Hobart race: Perham and Watson team up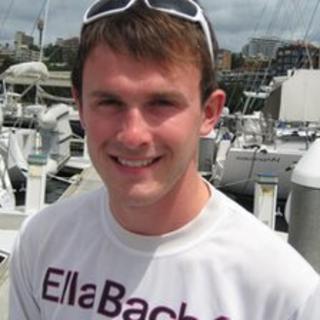 Nineteen-year old British yachting ace Mike Perham is teaming up with Australia's record-breaking teenage sailor Jessica Watson in the annual Sydney-to-Hobart blue water classic that starts on 26 December.
Mike Perham was 17 when he became the youngest person to sail solo around the world in 2009, a record trumped by 16-year-old Watson in May 2010.
The adventurer from Potters Bar in Hertfordshire was only 14 when he conquered the Atlantic on his own.
The pair will join the youngest crew ever to compete in the gruelling 628-nautical mile (1,160km) race from Sydney to Tasmania, which is one of the toughest ocean events in the world.
"We are both extremely determined, we don't let much get in the way of us achieving our goals. It's great to work with someone who is so like-minded," Perham told the BBC on-board the 38ft (11.78m) Ella Bache on Sydney Harbour.
"I met Jessica when I was sailing around the world. I had to pull in for some repairs in Australia and I met her here. Living with yourself for weeks on end I did go a little bit crazy.
"But I think every solo sailor is a little crazy when you have to live in a small, 10ft confined area for weeks and weeks and weeks. It is a bit like locking yourself up in a cardboard box," he added.
It took Perham 157 days and Watson 210 days to circumnavigate the globe. They expect to complete the voyage south from Sydney to the island state of Tasmania in a mere four days.
'Poms on-board'
"Around the world was slow and steady," said Watson, who grew up on Queensland's Gold Coast.
"It was all about getting the preparation right and just sticking it out. This is about racing so I've had a huge amount of new skills to learn. But also I'm in charge of a 10-person crew."
"We have got three Poms on-board. They're great and bring different things," she said.
With two Fastnet races under his weatherproof belt, Peter Woodward, 21, from Canterbury in Kent has spent the past three months in Australia preparing with his teammates for an event that is both exhilarating and dangerous.
In 1998, six sailors died when wild storms, described by officials as a "weather bomb", battered the fleet. The tragedy prompted a wholesale review of safety standards.
"It's a big deal. We're about to undertake one of the most recognised races this world has to offer. The natural elements are extremely unpredictable and that is what makes it so challenging," Woodward explained.
"As a team we are aware of the '98 Hobart. Every single one of us has gone through a sea survival training course."
Below deck the cramped main cabin of the Ella Bache is where the young sailors will cook, sleep (or at least try to while strapped to tiny slivers of bedding) and navigate.
Youthful optimism
In November a practice run to Hobart went to plan, apart from the scourge of seasickness that struck down most of those on-board. The crew has an average age of just over 19 years but is brimming with youthful optimism.
"I wouldn't say we've got a lack of experience, we've definitely got enough experience between us," said Will Broughton from Petersfield in Hampshire, whose father is also competing in the bluewater classic for the seventh time.
The race is one of the highlights of Australia's sporting calendar and has close ties to the Mother Country.
"Some 67 years ago a British naval officer by the name of Captain John Illingworth heard of a group of yachtsman that he'd associated with that wanted to cruise to Hobart. He suggested they make it a race," said Garry Linacre, commodore of the Cruising Yacht Club of Australia, which organises the annual event.
"There have been a lot of wonderful British performances. Former prime minister Sir Edward Heath was a well-known winner of this race and there has been a raft of competitors and we hope we see plenty more in the future," he added.
Unforgettable experience
However, global financial turmoil is blamed for a marked decline in the number of international entrants in this year's competition. Organisers say the Eurozone debt crisis has made it hard for overseas teams to find sponsors, while there is just a single yacht from the United States.
For those who can afford it, starting a race on arguably the world's most photogenic harbour in front of crowds of up to 500,000 people is an experience they're unlikely to forget.
"The race has become one of the Everests of sailing," said Linacre. "It is a confronting challenge for sailors. It is a race of extremities. It is a race that can break hearts with too much wind and also with too little wind."
The race record of one day, 18 hours and 40 minutes was set by Wild Oats XI in 2005. The super maxi is the favourite to win this year's dash down eastern Australia to Hobart.