Falklands sovereignty is "non-negotiable", says PM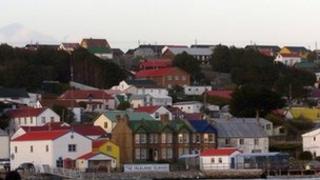 Prime Minister David Cameron has said Britain would "never negotiate" the sovereignty of the Falklands against the wishes of the islanders.
In his Christmas message to the islands, he said he "could never accept" an Argentine challenge to their right to self-determination.
He criticised "unjustified" efforts by Buenos Aires to disrupt shipping links.
A South American trading bloc has banned ships flying the Falklands flag from docking at their ports.
Mr Cameron says the British government's commitment to the security and prosperity of overseas territories, including the Falklands, "remains undiminished".
"So let me be absolutely clear. We will always maintain our commitment to you on any question of sovereignty. Your right to self-determination is the cornerstone of our policy," he said.
"We will never negotiate on the sovereignty of the Falkland Islands unless you, the Falkland Islanders, so wish. No democracy could ever do otherwise."
Earlier this week, the Mercosur bloc - which includes Brazil, Argentina, Paraguay and Uruguay - agreed to close its ports to ships flying the Falkland Islands flag.
The decision is the latest in a series by Latin American regional bodies designed to show solidarity with Argentina that has long claimed sovereignty over the Falkland Islands, which it calls the Malvinas.
Long dispute
Britain has held them since the 1830s and says their future is not negotiable. The two countries fought a brief but bloody war over the islands in 1982.
Their dispute has flared again recently. Last year, Argentina accused the UK of breaking international rules by allowing oil drilling under a sea-bed off the islands, located in a vast area of potentially mineral-rich South Atlantic waters.
In November, Argentina also condemned the announcement of Prince William's RAF posting to the Falkland Islands next year, calling it a "provocative act".
Mr Cameron said he wanted a "constructive relationship" with Argentina and there was common ground between the two countries on a range of issues from the global economy to climate change.
"We want to work with Argentina on those issues. But the Argentine government has continued to make statements which challenge your right to self-determination, and we can never accept that," he wrote.