Number of Christians falls by almost 10%, survey finds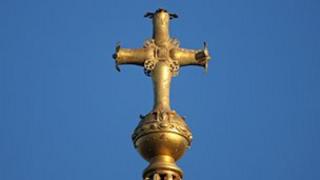 The number of people who call themselves Christians in England and Wales has fallen by almost 10% in five years, an official survey suggests.
The government-commissioned Citizenship Survey found 70% of the population said they were Christian in 2010, compared with 77% in 2005.
Over the same period, the number of people who said they had no religion rose from 15% to 21%.
The survey covers a sample of about 10,000 adults each year.
The interviews were conducted face-to-face and 10,307 adults were questioned this year.
'Unsustainable'
"While Christianity remained the most prevalent faith in England and Wales, between 2005 and 2010 there was a steady decrease in the proportion of people who identified themselves as Christian," the report found.
"As in previous years, Christian people were much less likely than all other main religions to say that they practised their religion, while Muslim people were most likely to practise their religion."
However, the number of Christians who said they went to church regularly was up over the same period, from 31% to 33%.
The survey's findings on race, religion and ethics are an update to the 2010 Citizenship Survey, which was published in September.
Set up in 2001, the survey asks adults questions on subjects including race equality, faith, attitudes towards violent extremism, volunteering and charitable giving, and feelings about their community.
Earlier this year, Communities Secretary Eric Pickles announced the survey would be scrapped, saying its £4m cost was "unsustainable" at a time of cuts.
Last week, Prime Minister David Cameron spoke about the importance of Christianity to Britain, saying the UK is a "Christian country" and "we should not be afraid to say so".
In a speech in Oxford on the 400th anniversary of the King James Bible, the prime minister called for a revival of traditional Christian values to counter Britain's "moral collapse".