The big stories affecting you in 2011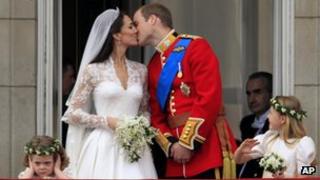 As 2011 draws to a close we look back at some of the big stories of the year.
In April more than a million people descended on central London to catch a glimpse of Prince William and his newly titled bride the Duchess of Cambridge.
Around the country, and other parts of the world, many people celebrated the occasion with street parties, whilst other couples shared their wedding day.
One BBC News reader helped organise a traditional vintage party and looks back on what the day meant to her.
Jo Pullin, Hatherleigh, Devon
To celebrate the royal wedding we organised a traditional vintage party.
There must have been 500+ people and it was a real cross-section of people - the church ladies made the cakes, the Rotary Club manned the bar and volunteers ran all the activities.
People dressed in vintage costumes, there was a bunting competition and vintage bikes for people to ride.
There were loads of games - hoopla, a coconut shy, a little pony for the children, one lady brought a gold vintage carriage with her which people took turns to sit in.
There were vintage items like typewriters, lots of old-fashioned things for the children to look at and hold. The children could also dress up in vintage clothes and have their photo taken.
There was a "royal wedding race" where one partner dressed in a bride's outfit, and the other in a groom's outfit.
We watched the royal wedding on a big screen, while a local couple set the atmosphere alive by singing old-time musicals with a grand piano.
The party started at around 14:00 in the afternoon, and lasted until about 17:00.
We raised £1,200 which was split between two charities - Hatherleigh Pre-School and Help for Heroes. Quite good for a little place in Devon!
One of the mums was doing a bike ride challenge for Help for Heroes and the money went towards that. The pre-school has bought toys, computers, books and games for the children.
I felt absolutely ecstatic and overwhelmed by the support from the community.
It was a lot of work; many, many nights after the children had gone to bed we were staying up to prepare for it. The set-up was a lot more work than the clear-up.
I was hoping that the royal wedding day could be a family day in which the community could come together - it reminded me of my childhood when Diana and Charles married.
The town council have put out a request for a group to organise something for the Diamond Jubilee, having seen the success of the wedding day event, but the four mums who organised the last event have all said not again so soon! I think we'd like to go to an event with our own families this time!