England riots: 'It was like a horror movie'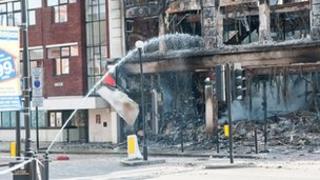 The riots in August that spread to various parts of the country began in Tottenham in north London.
The unrest began after a protest over the fatal shooting by police of 29-year-old Mark Duggan.
Local resident Michal Kulczynski is a photographer who took pictures of the aftermath of the unrest.
Here he looks back on what happened and describes what life is like now in Tottenham.
Michal's story
"I have lived in Tottenham for three years.
I came to the UK from Poland 10 years ago. I lived in various parts of London before settling in Tottenham after a friend recommended the area.
On the afternoon of the riots I was on my way home after a walk when I heard lots of screaming and shouting.
When I walked towards the noise, I saw about 200 people gathered and there were fires and lots of smoke.
I didn't think anything like that would ever happen here - it was like watching a horror movie.
There was so much anger and there were people who looked like they wanted to fight.
After seeing the kind of people who were out on the streets that night, I decided to wait and go out the next day to see the damage for myself.
Scenes of devastation
I went on my motorbike around 6am and drove through many streets to take some pictures.
I couldn't believe something like that had happened where I lived.
Even now it's so hard to believe - how can you destroy your homes and the streets where you live? It's just crazy - it's still hard to explain why people did what they did.
The main destruction was in the centre of Tottenham which is about a 10 minute walk from where I live.
Luckily there was not much damage to private properties. But there were shops missing and a fitness club had gone.
Shops closed and they are not re-opening.
After something like the riots, you can't recover quickly so some shop owners have moved to other parts of London - if there were no safety assurances then there was probably no point in re-opening.
There are still shops being rebuilt but I don't think many people want to live here anymore.
You don't realise how much anger there is bubbling underneath.
I feel like I don't want to stay here anymore. I'm married and I want a safer place to live to raise a family.
Contrasts in countries
After coming to this country I found that I had to change my mentality in order to survive.
I started from zero with just £50 in my pocket - I didn't get anything from anyone.
Even if people are jobless or have no education, they can still do something and make something of their lives.
I came without any experience or skills but I made a life here. There's no explanation for what they did.
There is no way something like this could happen in Poland.
Poland is a religious country - 99% of people are Catholic. There are rules and nobody would dare cross the line.
You might see something like this in other countries but I didn't expect to see it in the UK.
Domino effect
When the disturbances spread to other parts of the country - I knew something like that would happen - it was like a domino affect.
If there were people going out stealing and nothing happened to them, then it was no surprise that the unrest spread.
I think a high percentage of people believe they have no future. They have no fear so they feel they have nothing to lose.
In the days after the riots, slogans and posters appeared with "We love Tottenham". But they were just words - you can't change everything in a couple of months.
There needs to be a new set of rules otherwise there's no way that there will ever be change.
This thing could happen again so the government needs to provide support. People do little to help themselves in order to improve their lives.
I have noticed that people are more careful now - they are becoming more aware of what is happening around them.
It's important now to take responsibility and protect yourself, your family and your property."