Funeral held at Truro Cathedral for Cornish soldier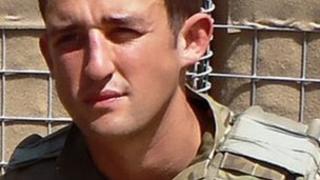 The funeral of Sapper Elijah Bond, who was injured in a bomb blast in Afghanistan, has taken place at Truro Cathedral.
Sapper Elijah Bond was conducting a reconnaissance operation in central Helmand when he was hurt in an improvised bomb explosion.
He was evacuated by helicopter to the military hospital in Camp Bastion and later taken to the UK.
Sapper Bond, from 35 Engineer Regiment died in hospital in Birmingham.
The funeral for the 24-year-old, who was from Mevagissey, near St Austell, took place at Truro Cathedral at 11:00 GMT.
"Bright, strong and caring"
In a eulogy, read by Captain Tony Neild on behalf of Major Guy Boxall MBE, Officer Commanding 37 Armoured Engineer Squadron, 35 Engineer Regiment, said: "Sapper Bond was one of my most effective and promising young soldiers. He was bright, strong and caring, and always a volunteer whatever the task.
"In a few short months I saw his confidence grow and his charisma shine through.
"He was exceptionally popular and possessed that rare gift of never being down and always managing to find a way to lift the spirits of those around him, even in the toughest of circumstances."
The soldier is survived by his parents Lizz and Mark, brothers Isaac and Jose, and sisters Kimberley and Bethany.
The family said in a statement, issued earlier in December: "He was a beautiful son, amazing brother, a proud uncle and our best friend.
"[He was] so mischievous and fun yet grounded and down-to-earth. He will forever be a piece of us and remain in our hearts."
Many people from Mevagissey came to the cathedral to pay their respects.
Zoe Truscott from the village said: "He was a great lad. It's really upsetting for the whole village. It was a big shock for everyone."
The President of the women's section of the Royal British Legion at Tywardreath near St Austell has offered their help to his family and friends.
Jan Halstead, whose own son Paul completed four tours of duty in Afghanistan, said: "It's very very difficult. Your heart feels like it's going to burst because it's so intense. You think 'my God that could have been my son'."