Roads and airports set for Christmas travel surge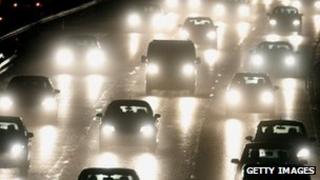 Travellers visiting friends and family for Christmas are being warned the coming days will be among the busiest of the year for UK roads and airports.
Motoring organisation the AA says it expects up to 18 million cars to take to the roads during the festive period.
Journey times on major routes are likely to double on Thursday and Friday, it said. Meanwhile, buses will replace trains on some routes from Sunday.
A strike in Belgium is stopping Eurostar services in northern France.
A limited coach service is then taking passengers between Lille and Brussels during the 24-hour strike. The London-Paris service is operating normally.
More than 205,000 people are expected at London's Heathrow Airport on Friday.
This compares with around 180,000 on a normal day, a spokeswoman for airport operator BAA said.
Heavy traffic
This year's milder weather is unlikely to prevent delays for motorists.
The AA says heavy traffic is likely on the M1 in Bedfordshire and Buckinghamshire, the M25 around London, the M6 in the West Midlands, the A14 in Cambridgeshire, and the M4 between London and Newbury.
The Highways Agency said it had sought to help motorists by completing 500 miles of roadworks in England before Christmas, and suspending a further 60 miles of works between 23 December and 3 January.
However, roadworks will still be in place in 26 locations, including a 32-mile stretch of the M1 near Luton.
The Association of British Travel Agents estimated some 4.25 million Britons would leave the country via airports, ports and the Channel Tunnel in the period between 16 December and 3 January.
That compares with just under four million last festive season.
Business 'slack'
The number of people taking the whole of the Christmas and New Year period off work in the UK was expected to be higher than last year's figure of about five million, said the Centre for Economics and Business Research.
"First of all, because business is pretty slack at the moment, and there is not much point going in and bashing your head against a brick wall," explained CEBR chief executive Douglas McWilliams. "Why turn up to work if you can't do much business while you're there?
"Second, the timing of Christmas and New Year means that for those who want to take a long holiday, you lose very few working days."
There are typically fewer rail travellers during Christmas week than at normal times, but the Association of Train Operating Companies (ATOC) said people would still make 20 million rail journeys between 23 December and 3 January.
ATOC said the use of replacement buses had halved this year and there would be 54,000 more trains running, although there would still be replacement buses on some routes.
No trains will be running on Christmas Day and there will be only limited services on Boxing Day.