Behind the scenes of David Cameron's Afghanistan trip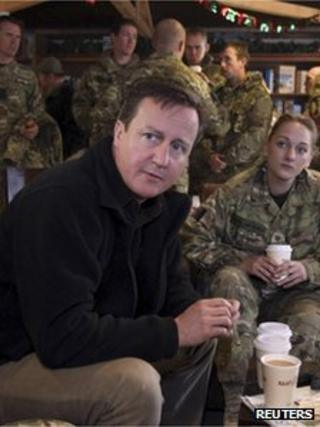 David Cameron has visited UK troops in Afghanistan - accompanied by a handful of journalists - amid renewed efforts to improve the welfare of service personnel.
As we approached southern Afghanistan on board the RAF C-17 transport plane, we were handed printed sheets setting out the timetable for the prime minister's trip.
There was to be a visit to a front-line base, a meeting with local Afghan community leaders, and a chance to see the work of British explosives teams and dog-handlers.
However, a swirling dust cloud forced Downing Street to tear up those plans as we were diverted instead to Kandahar, the main Nato base.
"It's the worst day of the year," we were told. It was -5C, with the dust storm casting a twilight gloom by mid-afternoon.
Mr Cameron put a brave face on it, pointing out that this is the sort of thing British troops here have to put up with all the time.
He did still manage to meet British troops. As he chatted to Tornado aircrews from 12 squadron, based at RAF Lossiemouth, he thanked them for their efforts, providing support and reconnaissance to the ground troops.
Military covenant
Mr Cameron wanted to use this visit to highlight a renewed effort to improve the welfare of servicemen and women.
It coincided with the first annual report on the military covenant, now enshrined in law, which sets out the moral obligation on the nation to provide the right support to the men and women who risk their lives for their country.
It found that pay and conditions continued to cause concern within the armed forces, at a time when demands on them remained high.
Mr Cameron is setting up a new committee of senior ministers and service charities to oversee the efforts to improve healthcare, education, housing and community support.
He set out some of the improvements that have already been introduced: doubling the operational allowance; extra help for children from military families through the pupil premium; and a new strategy for those with mental health problems.
Mr Cameron promised to ensure a cross-government effort to make the concerns of the military a priority.
His difficulty is that he is doing so at a time when his government is cutting up to 20,000 jobs across the three services and imposing a 1% pay cap as part of the effort to restrain public sector pay.
He admitted his government had taken "difficult decisions" because of the economic climate and the mess in the Ministry of Defence's finances, which he has blamed on the previous Labour government.
For many troops and their families, the key question is when the mission in Afghanistan will be over.
Mission 'end-point'
Mr Cameron told us the process of "transition" - handing power to the Afghan security forces - was on track.
He repeated his pledge that British forces would no longer be in combat roles in the country by the end of 2014, saying the public at home needed to know there would be an "end-point" to the mission.
At the moment there are around 9,500 British personnel in the country and only around 500 are due to pull-out next year.
Senior security advisers on the trip said the key decisions on troop numbers would be taken in the run-up to the Nato conference in Chicago next May.
But Mr Cameron did tell us he did not think it would be practical to have "some massive cliff-edge withdrawal" in 2014.
It was a clear hint that he would like to see a phased pull-out from 2013.
The military strategy does have to work alongside the efforts to find a political solution for Afghanistan.
Mr Cameron said reconciliation between enemies was always going to be difficult.
One of his senior advisers said the process was at an early stage, but British officials are clear that this must be an Afghan-led process.
Elections in Afghanistan are due to be held in 2014 and British officials hope that by that time, the country's own forces will take the lead in providing security across the country.
If there is an increase in violence, it could present some very difficult decisions for Mr Cameron in the year before he himself must fight an election.