Eurostar affected by strike in Belgium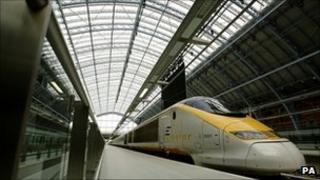 Eurostar travellers could have their Christmas getaway plans disrupted by a general strike in Belgium on Thursday.
Scheduled services between London and Brussels will start and finish at Lille in northern France as the public sector action shuts Belgium's rail network.
Eurostar is supplying a limited coach service between Lille and Brussels but says both stations could get busy.
It advises affected passengers to exchange their tickets, free of charge, for journeys before or after Thursday.
This will be allowed regardless of ticket conditions, subject to alternative service availability, Eurostar said.
Wednesday's 19:04 London to Brussels service will also terminate at Lille as the 24-hour strike starts at 21:00 UK time that evening.
Last December, Eurostar services were disrupted as freezing weather conditions affected much of the UK.