Stephen Lawrence trial: Witnesses back up forensics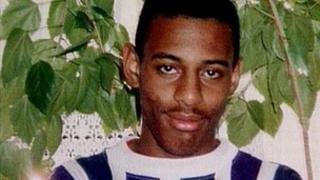 Witnesses back up new scientific evidence in the Stephen Lawrence murder trial, the prosecution has said.
The jury has heard weeks of evidence, particularly about forensic material found on the two defendants' clothing.
Scientists had rejected the defence claim that clothes were contaminated after being seized by police, Mark Ellison QC told the jurors.
David Norris, 35, and Gary Dobson, 36, deny murdering 18-year-old Mr Lawrence in Eltham, south London, in 1993.
The black teenager was stabbed after he was set upon by a group of white youths.
In his closing statement for the prosecution, Mr Ellison told jurors on Tuesday they could only return guilty verdicts if they were sure of three things. Firstly, he said, they had to be sure the forensic findings could not "realistically be caused by contamination".
Key exhibits
If they were sure there was no contamination, they must be certain the defendant participated in the attack and that the defendant realised his fellow attackers "might use a sharp weapon with intent to cause really serious injury and that one of those attackers actually did so", Mr Ellison said.
He told the jury they only had to decide on the potential contamination of "four key exhibits" - Mr Dobson's jacket and cardigan, and Mr Norris's sweatshirt and jeans - and not the entire system.
If the evidence had not got onto the clothing through contamination, it must have got there because the men were among the attackers, said Mr Ellison.
He told the Old Bailey witnesses on the night had described "a scuffle, a bundle, a collision" while Mr Lawrence tried to defend himself.
'Fresh, wet blood'
"As the scientists suggest, the evidence has shown it may well have been the case that there were opportunities for contact being made between parts of the attackers' clothing and parts of Stephen Lawrence's clothing," he said.
Mr Ellison said there was "strong evidence" Mr Dobson's jacket was stained with "Stephen Lawrence's fresh, wet blood".
The defence has argued that an old dried blood flake got on the jacket via contamination and caused a spot when it was dissolved during tests for saliva.
Earlier in the trial, the jurors were shown a police surveillance video showing racist rants by the two defendants.
Mr Ellison said it could not be "a coincidence" the defendants expressed racist views and talked of resorting to violence.
The trial was adjourned to Wednesday.