Phone-hacking: Seven claims against News of the World settled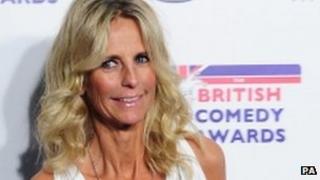 Seven public figures have settled legal claims over phone hacking with News of the World (NoW) publisher News Group.
They include former Lib Dem MP Mark Oaten, TV presenter Ulrika Jonsson and celebrities Abi Titmuss and Calum Best.
The others were theatrical agent Michelle Milburn, Paul Dadge, who helped survivors of the 7/7 bombings, and former Army officer James Hewitt.
The defunct tabloid's owner News International (NI) said it had agreed "appropriate sums" in compensation.
The settlements followed civil action against both News Group and Glenn Mulcaire, the former private investigator jailed in January 2007 for phone hacking.
'Regret'
In a statement, NI said it had agreed to pay "appropriate sums by way of compensation and costs and had "expressed regret for the distress caused".
The settlement followed discussions with News Corp's management and the standards committee acting on behalf of News Group, NI said.
Reacting to the settlement, Mr Oaten said "substantial" compensation had been agreed.
The former Lib Dem leadership candidate saw his affair with a male prostitute splashed across the pages of the NoW in 2006 - days after he pulled out of the race to lead his party.
"I'm glad, after a long period, this issue is finally resolved and I'm able to understand better the actions taken against me by the media," he said.
"I'm grateful to the current team at News International for trying to put wrongs right and settle this honourably."
Several high-profile figures have already settled claims, including actress Sienna Miller who accepted £100,000 in damages and costs.
Celebrity publicist Max Clifford sued the NoW for breach of privacy and received a settlement worth a reported £1m.
The publishers agreed to pay £2m to the family of murdered schoolgirl Milly Dowler, whose voicemail messages were accessed while she was missing, as well as giving £1m to charities chosen by the family.
The terms of the latest payments were not disclosed.