Dr David Kelly inquest ruling challenge fails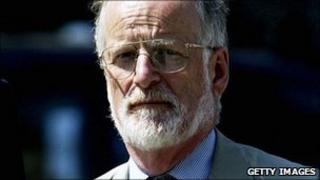 A bid to bring a High Court challenge over the attorney general's refusal to give his consent for a new inquest into the death of Dr David Kelly has failed.
Government scientist Dr Kelly was found dead in July 2003 aged 59 after he was exposed as the source of a BBC story about Iraq intelligence.
Campaigners had sought a judicial review of the decision, which backed a finding that Dr Kelly killed himself.
The attorney general said in June the evidence for this was "overwhelming".
Dominic Grieve concluded there was no possibility that an inquest would reach any verdict other than suicide - the conclusion drawn from an inquiry into the death by Lord Hutton - and he rejected claims of a "cover-up".
But a group of doctors said Hutton's ruling was unsafe, claiming the evidence did not point to suicide. They mounted a long-running campaign for the inquest to be re-opened.
'Not justice'
On Monday, Mr Justice Nicol refused permission for one of the group, retired orthopaedic surgeon David Halpin, to seek a ruling that the attorney general had acted "unlawfully and irrationally".
Mr Halpin's lawyer, John Cooper QC, had told the court "public anguish" remained over the case, along with concerns the Hutton Inquiry had failed to get to the truth.
As the decision was announced there were cries of "shame" and "this is not justice" from members of the public.
Outside court, Mr Halpin said he was disappointed but not surprised by the decision.
Dr Kelly's body was found in woods near his home in Oxfordshire, after he was exposed as the source of a controversial BBC report casting doubt on the government's claim that Iraq had weapons of mass destruction capable of being fired within 45 minutes.
The report led to a fierce row between the BBC and the then Labour government.
An inquest was opened but suspended when the Hutton Inquiry was set up in 2004 to look into the circumstances of Dr Kelly's death.
Its report concluded Dr Kelly had killed himself by cutting an artery in his wrist. The original inquest was never concluded.
New dossier
In March this year, the campaigners handed to Mr Grieve a new dossier containing details about the absence of fingerprints on items found near his body.
But Mr Grieve concluded in June that the inquiry was "tantamount to an inquest". He said he could not find any legal basis for referring the case to the High Court, which has the legal authority to order an inquest.
His department published full medical and pathology reports on Dr Kelly's death.
In September, the campaigners lodged papers to seek a judicial review of the decision not to hold a new inquest.
Rejecting Mr Halpin's application to seek judicial review, the judge described how it was the attorney general's role to act as a "filter" before matters reached court.
"Parliament considered it necessary for such a filter," he said. "In my judgment he (the attorney general) has exercised that discretion and power lawfully."
The court said there was "no impropriety" or procedural flaw in the way Mr Grieve had considered the evidence and concluded a new inquest was unnecessary.
Mr Halpin, 71, from Haytor, Newton Abbott, Devon, was ordered to pay £5,568 towards the attorney general's legal costs.
"Dr Kelly's death has not been investigated properly. There has been no inquest," he said outside court.
"The Hutton Inquiry had more holes than a Gruyere cheese."