'The Black Panther': Profile of killer Donald Neilson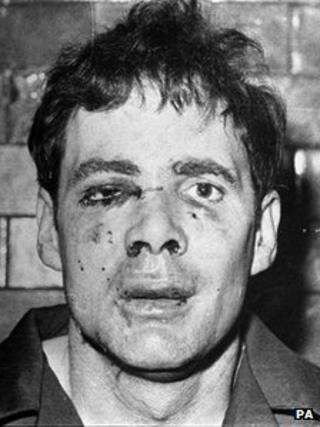 Multiple murderer Donald Neilson, who has died in custody at the age of 75, was known as The Black Panther. But who was he and why was he considered so dangerous?
Neilson was born Donald Nappey in August 1936 and his surname made him the target for bullies both at school and during his National Service in Kenya, Aden and Cyprus.
But he relished army life and picked up an interest in guns, which he would maintain throughout his life.
However, his fiancee Irene, whom he married in 1955, persuaded him not to pursue a career in the services and instead to come back to Bradford and settle down.
Their daughter Kathryn was born in 1960, and it was at this time he decided to change his name by deed poll to Neilson.
Neilson started work as a carpenter but he struggled to make ends meet, later failing to make a success of a taxi firm and a security guard business.
As financial success continued to elude him, he became more and more overbearing and domineering toward his wife and daughter.
In 1965, he began a career as a burglar in order to supplement his income.
He managed about 400 burglaries without being caught, but the financial returns were low so he turned to robbing sub-post offices.
Between 1967 and 1974 he carried out 19 such robberies in Yorkshire and Lancashire - but the cash taken was not enough for Neilson, who became more and more embittered and ruthless.
Murders linked
In February 1972, Neilson broke into a sub-post office in Heywood, Lancashire, in the middle of the night.
Postmaster Leslie Richardson, who lived upstairs, was woken by noises from below. When he went to investigate he was confronted by a hooded Neilson, who shot him during the ensuing struggle.
Mr Richardson was lucky to survive and was able to give police a description, the first of six photo-fits - none of which proved to be a realistic likeness of Neilson.
It was two years before Neilson fired his shotgun again in anger and this time he took a life.
On 15 February 1974 he broke into a sub-post office in Harrogate, North Yorkshire, and shot dead Donald Skepper when the sub-postmaster confronted him.
Seven months later, Neilson claimed another victim, Derek Astin, in almost identical circumstances during a robbery at Higher Baxenden, near Accrington, Lancashire.
The police quickly linked the two murders, and they added a third on 11 November when Sidney Grayland, 55, was shot dead at his sub-post office in Oldbury, West Midlands.
This time Neilson escaped with £800 in cash and postal orders. The police interviewed thousands in the search for the killer, dubbed "The Black Panther" by the media.
However, despite killing three people, Neilson's exploits had failed to rouse significant interest in the national newspapers.
All that was to change two months later, when he turned to kidnap as a means of getting his hands on the financial jackpot he craved.
Night-time abduction
Neilson had first got the idea of kidnapping Lesley Whittle in May 1972, when he read an article in the Daily Express that gave details about the £82,500 she had inherited when her father George, who ran a coach company, died.
On the night of 14 January 1975, Neilson broke into Lesley's home in Highley, Shropshire, and quietly abducted her from her bedroom, allowing her to put on only a dressing gown.
Within days of her kidnap, she is believed to have been taken to the place where she would eventually die - a deep drainage shaft beneath Bathpool Park, near Kidsgrove, Staffordshire.
Neilson left detailed instructions for the Whittle family on a piece of Dymo tape that he left in the family's lounge.
He also said that Lesley would be killed if he suspected the police had become involved. The family did contact the police and, although elaborate measures were taken to make sure Neilson was not alerted, Lesley's naked body was found a week later.
Det Ch Supt Bob Booth was leading the inquiry and had an unblemished record of having solved every one of the 70 murders he had investigated.
"I felt sick that it should have happened. We had let her down. I had let her down. I'm in charge, it was my fault," he told a documentary.
Few clues
Meanwhile, Neilson shot security guard Gerald Smith after he had challenged him in a railway yard, where Neilson had been planning to arrange the third ransom drop. Mr Smith died about a year later.
Police later conducted a proper search of Bathpool Park, the site of a failed ransom drop, where they made a gruesome discovery in the drainage shaft.
A metal hawser dangled over the ledge and on the end of the hawser was Lesley - she had been strangled by the rope after either falling or being pushed off the ledge.
But the discovery of Lesley's body provided few clues for the police, and the Black Panther remained at loose for another nine months.
Neilson may have got away with her murder but for his own greed.
He decided to go back to post office robberies and one night in December 1975 he was spotted by two police officers acting suspiciously near a sub-post office in Mansfield, Nottinghamshire.
Routine questions
As Pc Stuart McKenzie asked him some routine questions, Neilson pulled out a double-barrelled shotgun and forced the officer and his colleague, Pc Tony White, to drive off at gunpoint.
Pc McKenzie, fearing for his life, took drastic action. He swerved the car, slammed on the brakes and skidded into the kerb outside a fish and chip shop.
As Pc McKenzie and Pc White fought with Neilson they were joined by passer-by Roy Morris, who helped them overpower him.
Neilson's home in Yorkshire was searched and police found guns, ammunition and even a model of a black panther.
For several days he refused to answer any questions. But he finally cracked and made a full confession, saying that he had accidentally knocked Lesley off the ledge.
In July 1976, he went on trial at Oxford Crown Court and was given five life sentences.