Leveson Inquiry: Reporter's brother gives evidence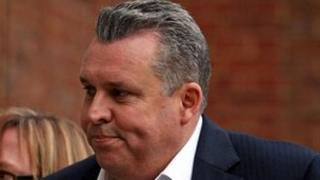 The brother of Sean Hoare, a former News of the World journalist who made claims about the paper phone hacking, says the practice was "used widely".
Stuart Hoare told the Leveson Inquiry his brother had witnessed phone hacking at the News of the World and the Sun.
"It was a routine at the Sun and it was probably more daily at the News of the World," he told the ethics inquiry.
Sean Hoare, who suffered from alcoholic liver disease, was found dead at his home in Watford, Herts, in July 2011.
He had alleged former News of the World (NoW) editor Andy Coulson was well aware that phone hacking had taken place. Mr Coulson has strongly denied the claims.
'Carried away'
Sean Hoare's brother told the inquiry they had "shared a lot of secrets". He said they had talked at length and exchanged emails about phone hacking and the "strange world" he operated in.
"These alleged practices not only went on at the News of the World but it went on at the Sun," he said.
He said his brother had initially enjoyed working for the NoW when he began in 2001 but was struggling to cope in the latter years, until he was sacked in 2005.
"He got carried away - like a lot of journalists did - but they were under a lot of pressure from seniors to deliver," he said.
Mr Hoare was not allowed to name names at the inquiry, but said the "seniors involved in the practices know they were involved and know they were in the wrong".
Sean Hoare had a history of drug and alcohol problems, but his brother said he had been clean for about eight months before an article about phone hacking appeared in the New York Times in July 2010.
He also said Sean had not been paid for any of the interviews he had given about hacking.
James Hanning, deputy editor of the Independent on Sunday, also gave evidence to the inquiry into press standards and ethics on Monday.
He said he had first met Mr Hoare in the summer of 2010.
While the reporter was certainly aggrieved at having been sacked, Mr Hanning said, he did not think it was his "prime spur" for speaking out.
"He told me he was offered £60,000 to tell his story some years ago but he turned it down," Mr Hanning added.
Mr Hanning told the inquiry Mr Hoare had admitted to hacking phones "numerous times", and the practice was carried out by a number of people.
'Blagging'
The third person to give evidence was former NoW sports reporter Matt Driscoll, who won an employment tribunal claim for disability discrimination after he was sacked by the paper.
He spoke of a culture of bullying and said his depression was "entirely down" to his job. Taking the paper to court had finished his career, he said.
"Who would want to employ someone who has taken on the bosses and won, and who's also happy to talk about it?" he said.
Mr Driscoll explained how "blagging" could be used to support a story. He used the example of how he had been trying to follow up a tip-off about the health troubles of a famous football manager by using his contacts, but had failed to learn anything.
His sports editor told him to leave it with him, then a week later, Mr Driscoll got a phone call from his editor.
"He said 'you're absolutely right, the story is true - I've got his medical records with me at the moment'.
"Having been on the Daily Star where none of that ever happened, I was a bit aghast that it seemed that easy to obtain someone's medical records."
He told the inquiry this was often done by sending a fax to a hospital claiming to be a specialist in need of confidential information.
Mr Driscoll said the story did not appear because a deal was struck whereby the manager would co-operate on other stories.
The inquiry continues on Tuesday when it will hear evidence from former Daily Mirror and News of the World editor Piers Morgan. Mr Morgan - who now works for CNN - will appear by videolink from the US.
Prime Minister David Cameron set up the inquiry after the News of the World admitted intercepting voicemail messages of prominent people to find stories.