Paper review: Financial matters dominate Sunday papers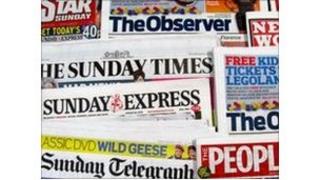 No one story dominates the papers but financial matters are prominent.
TheObserver says leaked advice to the Treasurysuggests traders are using previously hidden "high management fees" to deprive pensioners and savers.
Itcarries a warningthat "France could be stripped of its triple-A credit rating before Christmas".
TheSunday Timessays it has learnt of Foreign Office plans to evacuate expat Britons from Spain and Portugal if their savings there are lost.
Eurozone row
The Independent on Sunday'sJohn Rentoul says David Cameron's decision to walk away from the eurozone fiscal agreementmade him "look strong".
TheSunday Telegraph says an ICM surveyshows the veto has lifted Tory ratings.
ASunday Expresscartoon shows the prime minister (John Bull) and Nicolas Sarkozy (Napoleon) dividing a "Europe" pudding. Mr Cameron has a "veto" knife.
But theObserver's Kim Willsher in Paris says English and French dinner guestsboth saw the spat as childish.
Clegg on tax
TheSunday Telegraph ushers Deputy Prime Minister Nick Clegg back into the limelight.
He will try to "reassert the Liberal Democrats' voice in government" in a speech criticising Tory plans to give married couples tax breaks, it says.
TheDaily Mirror believes that such a "broadside"will "trigger another row with David Cameron".
TheObserver says Mr Clegg "will open a new front"by mocking Mr Cameron's 1950s view of the traditional UK family.
Strictly Come Dancing
The final of Strictly Come Dancing makes some editions, with theObserver's Euan Ferguson saying "it was, probably" the most splendid yet.
But Harry Judd's win is almost overshadowed by the story that some of the competition's top professionals may be axed.
TheSunday Express thinks the news led to an atmosphere "tense in the extreme"in Blackpool last night.