Leveson Inquiry: Summary of week five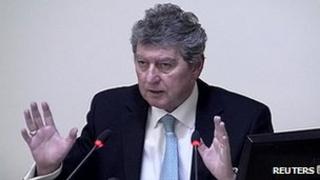 Central figures from the News of the World dominated proceedings at the Leveson Inquiry this week, along with controversy regarding the deletion of Milly Dowler's voicemail messages.
Colin Myler, former editor of the News of the World (NoW), was the most senior figure to appear, describing his "discomfort" when he took over as editor at the possibility "of bombs under the newsroom floor" in the form of past illegal practices.
"I didn't know where they were and I didn't know when they were going to go off."
But Mr Myler said he had accepted the NoW's assertion that phone hacking had been limited to "one rogue reporter".
Meanwhile, Metropolitan Police representative Neil Garnham QC told the inquiry that the "most likely explanation" for the deletion of Milly Dowler's voicemail mesages was that they had been automatically deleted when they became 72 hours old.
This was contrary to the Guardian's story that reignited the scandal, and a development that provoked fierce debate this week.
Earlier in the week, NoW's star investigative reporter, Mazher Mahmood, and chief reporter Neville Thurlbeck gave evidence defending the newspaper.
Mr Mahmood said he had not been aware of phone hacking and defended his methods as "totally justified".
Mr Thurlbeck claimed that knowledge of phone hacking "went to the top" of the newspaper "but no further" in the media group.
Currently on bail, Mr Thurlbeck is embroiled at the heart of the scandal as the Neville referred to in the infamous "For Neville" email, which it has been suggested proves News Corporation Chairman James Murdoch knew phone hacking went beyond a single reporter.
"It was not a culture of cover-up", former NoW legal manager Tom Crone told the inquiry on Wednesday. But he admitted that, at the time of former reporter Clive Goodman's arrest in 2006, he had suspected phone hacking was more widespread than just one "rogue reporter".
He went on to tell the inquiry that he was "pretty sure" he had shown Mr Murdoch a printout of the "For Neville" email three years ago, casting doubt on the News Corporation chief executive's claim not to have been aware of wider-spread evidence of hacking.
Derek Webb, who placed over 150 people under surveillance in his work as a private investigator for the NoW, claimed the paper had sought to disguise their use of investigators. He said he was asked to join the National Union of Journalists and rename his business so that the NoW could deny that the paper used private investigators.
Mr Myler's testimony closed proceedings for the week, and the former editor described phone hacking as "criminality" and called for perpetrators to be punished with the "full force of the law".
Transcripts of the hearings are available on the Leveson Inquiry website.