Manchester and Salford top UK's fake goods trade list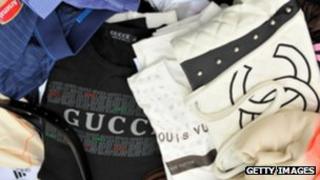 Manchester and neighbouring Salford are at the centre of counterfeiting and piracy in the UK, Trading Standards has told the BBC 5 Live Investigates.
In Salford, an open-air market has been closed because more fake goods were being sold than legitimate products.
Industry advisers say not enough is being done to tackle the illicit trade, which costs the UK economy around £1.3bn a year.
The government said it is working hard to crack down on counterfeit products.
A series of rolling raids by enforcement officers in the rag-trade area of Manchester over seven days have recovered around £2m ($3.1m) worth of items suspected of being counterfeit.
They include fake branded clothing, designer jewellery and GHD hair straighteners.
Manchester's Cheetham Hill is seen as an assembly and distribution hub for the fake goods trade throughout the UK.
In one of the premises, officers found a workshop hidden behind wall panels in which it is suspected that counterfeit Ugg boots were being made.
Pete Astley, a chief Trading Standards officer sitting on the national Intellectual Property Crime Group, which represents Trading Standards, the police and businesses told 5 live Investigates: "Manchester and Salford is the centre of counterfeiting and piracy in the UK.
"We have areas in these cities where the market is very well developed and you'll find everything and anything being sold in those areas.
"The supply chains are very organised within the north-west [of England] region and they supply other parts of the country with counterfeit goods.
"Goods from Manchester and Salford can find their way anywhere in the country. We have examples of products in the Shetland Islands and Cornwall as well as parts of Scotland and the south east [of England]."
Overwhelmed authorities
Glyn Roberts, a former policeman who works with businesses to counter the fakes trade, says: "Manchester and Salford are the distribution centres of 90% of counterfeit products in the UK.
"Trading Standards have tried to tackle it but it's become such a size that they're struggling."
A spokesman for Manchester City Council says: "We believe this criminality to be serious and we will do what we can to crackdown on it."
In neighbouring Salford, an open-air market attached to the city's main shopping centre is to close because of concerns that more fake goods were being sold than legitimate products.
The owners of the market - Salford Estates - say the decision to shut the market from the end of January 2012 had been taken in part because of the "persistent sale of counterfeit goods".
The threat to legitimate retailers from counterfeiters comes amid concerns that some enforcement authorities across the country are struggling to cope.
A survey of Trading Standards departments conducted by the Intellectual Property Crime Group found that one third of the 82 departments that responded had reduced their level of enforcement to tackle fake goods compared to the previous year.
They blamed cutbacks, insufficient resources and competing priorities.
Glyn Roberts says: "We can gather evidence for Trading Standards to take action and they'll say that their case load is too big, 'well we might be able to cover it in six weeks time' - so it can be very frustrating.
"We have known of instances where we have cleared market stalls, and within 35 to 40 minutes of a stall being emptied it's being restocked. So it's coming from very well concealed parts of the market and from vans."
A spokesman for the Department of Business, Innovation and Skills (BIS), said: "The recent raids in Manchester show that the government, through the Intellectual Property Office, is working hard to crackdown on the trading of counterfeit goods.
"BIS consulted in the summer on improving the consumer enforcement landscape, strengthening the national organisation of Trading Standards to boost action against rogue traders - both those selling counterfeit goods and those using other scams and sharp practices to mislead or cheat consumers.
"The results of this consultation will be announced early in the new year."
You can hear the full report on 5 live Investigates on Sunday, 18 December at 21:00 GMT on BBC Radio 5 live. You can also listen via the 5 live website or by downloading the 5 live Investigates podcast.