Stephen Lawrence trial: David Norris denies being there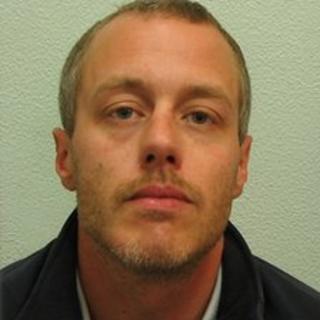 Murder suspect David Norris has told the Old Bailey he cannot remember where he was when Stephen Lawrence died but he was not involved in the killing.
Mr Norris said he was an "innocent man" and had not been in Eltham, south London, where Mr Lawrence was killed.
Later his mother Theresa Norris was accused of inventing a false alibi by saying he was at home on the night Mr Lawrence died - a claim she denied.
Mr Norris, 35, and Gary Dobson, 36, deny murdering 18-year-old Mr Lawrence.
The black teenager was stabbed after he was set upon by a group of white youths in April 1993.
During questioning by prosecutor Mark Ellison QC, Mr Norris was repeatedly asked what he had been doing on the night the teenager died.
The defendant said he had not been in the area where the stabbing took place.
He said: "You are accusing me of murder. I am an innocent man."
Mr Ellison asked Mr Norris how he knew he had not been in Eltham.
"Because I am innocent," replied Mr Norris, who was 16 when Mr Lawrence died.
His mother said her son had had a curfew and would have been at home when Mr Lawrence was killed.
The year after Mr Lawrence's death, Mr Norris was caught on a police surveillance video, shot over several days, which shows the two defendants interacting with various friends and acquaintances.
Mr Norris told the jury: "I apologise for what you've had to listen to in the courtroom."
Extracts of the surveillance footage, shot at Mr Dobson's flat in Eltham, were played in court again.
He said he was "ashamed" of secretly recorded comments made in 1994 in which he said he would torture black people.
Mr Norris was captured using extreme racist language to describe how he would kill black people, people of Pakistani origin and police officers.
Later, he went on: "I would go down Catford and places like that I am telling you now, with two sub machine guns."
Using the same racist language, he said he would take a black person, torture them, skin them alive and set them alight.
"I would blow their two arms and legs off and say 'go on, you can swim home now'. They would be bobbing around like that."
'Broke my heart'
Mr Norris told the court he had been angry after being accused of murder and "wouldn't dream of doing something like that".
He said: "I got accused of a murder, a terrible murder, and I was angry, especially with the police force... I'm not saying I'm perfect, I'm far from perfect, but to accuse me of murder. I was angry, very angry."
The defendant told the court that people would swear at him and threaten him after he was accused of the killing.
"I had to see my mum cry herself to sleep every night and it broke my heart," he said.
However, Mr Norris denied being racially prejudiced at the time despite using racist insults.
The defendant's barrister, Stephen Batten QC, put it to him: "It's not just using language Mr Norris, it's holding views. Did you as a boy aged 16 not just use impolite language about black people but were you prejudiced against them?"
To this, Mr Norris replied: "No I would say I was not, I just said words and didn't really know what I was saying."
The court has heard that hair found in an evidence bag used to store Mr Norris's jeans matched Mr Lawrence's DNA.
And fibres were found on Mr Norris's sweatshirt which had potentially come from Mr Lawrence's clothes.
The defence legal team has suggested that the clothes could have been contaminated after they were seized by police.
Mr Norris told the court he could not explain how the fibres and hair were found on clothing taken from his bedroom.
Clothing questions
The defendant said the clothing was not his and he had moved to the room only a week before.
The jury was also shown pictures of the defendant's brother wearing the clothes while out fishing.
Mr Batten asked the defendant: "Did you have anything to do with the death of Stephen Lawrence?"
Mr Norris replied: "Certainly not sir, no."
Asked if there could be an innocent explanation for the clothing link, he told the court: "If I don't know who killed that Stephen Lawrence, then I don't know if I bumped into them."
Questioned about whether it could have been one of his friends, Mr Norris replied: "I don't know. They told me they had nothing to do with it and I believe them."
Later the defendant's mother Theresa Norris was accused of giving her son a false alibi.
Alibi accusation
It came after she told the court that her son would have been at home when Mr Lawrence was killed because she had imposed a curfew which meant he would have been at home by 21:30.
"I had a routine. The routine was my children would be at home," she said.
Mr Ellison QC accused Mrs Norris of inventing the story.
"The first that we've heard of any suggestion that you can alibi your son for this murder is today," he said, adding that she "made it up".
She denied the accusation.
When Mr Norris was interviewed by police in the wake of Mr Lawrence's death, his mother did not tell them that she could provide an alibi.
Mrs Norris told the court she had not mentioned the alibi before because, in the past, she had received legal advice telling her not to say anything.
The jury has been sent home until Monday.