Lord Blair: Police cuts will see officer numbers fall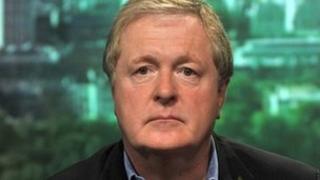 Lord Blair has dismissed government assurances that the cuts to police funding will not lead to a fall in the number of front-line police officers.
The former commissioner of the Metropolitan Police said the cuts were being made "without a plan".
The government is cutting central government funding to police in England and Wales by 20% over five years.
The Home Office said the government's reform agenda for the police was "strong and coherent".
The Association of Chief Police Officers has estimated that the cuts, announced in the 2010 Spending Review, will result in 28,000 police jobs going over the next four years - 12,000 front-line officers and 16,000 civilian staff.
Lord Blair said the government's claims that the numbers of front-line police officers would not fall as a result of the cuts were "nonsense".
He told BBC Radio 4's World At One: "You can't cut that level without there being cuts in the front-line service, as long as you keep trying to deliver all of them by police officers."
He said an interesting question to pose would be what proportion of the police service had to be warranted officers and what proportion could be delivered by people who worked for the police, but were not warranted officers, or worked for the private sector.
'Better value'
"Then you can start with the economies of scale - the big police forces have to have a different approach," Lord Blair said.
"But unless the government permits that, plans it, we're just going to slowly see officer numbers drop."
Police Minister Nick Herbert rejected Lord Blair's concerns, saying that the former Met Police commissioner was out of touch with the efforts being made to protect front-line officers.
"Of course there aren't guarantees, but actually what we know from what the inspectorate has said so far is that the numbers that have come down in the front line is just 2%," he said.
"And it looks as though the proportion that are on the front line is actually going to increase over the four-year period of the Spending Review.
"He has been out of this for a time. Forces are adjusting to this challenge by embarking on a transformation of policing, many of them are looking at radical proposals of driving down costs, working more efficiently so that they can protect the front line."
A Home Office spokesman said: "The government's reform agenda is strong and coherent, with a new National Crime Agency to tackle serious crime and elected police and crime commissioners to deliver better value for the taxpayer and give the public a stronger voice."