Dangerous dogs sentencing guidelines proposed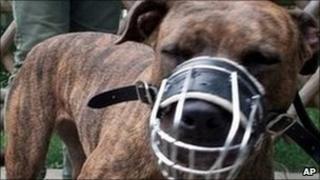 Judges have published the first proposed sentencing guidelines for people convicted for dangerous dogs offences in England and Wales.
The proposals come 20 years after the controversial Dangerous Dogs Act became law in the UK.
The Sentencing Council for England and Wales says it hopes the guidelines will ensure consistent and proportionate sentencing.
More than 1,700 people were prosecuted over dangerous dogs in 2010.
Ministry of Justice figures show that between 2009 and 2010 the number of people sentenced for dangerous dog offences rose from 855 to 1,192.
The government estimates that treating dog injuries costs the NHS more than £3m a year.
The Sentencing Council, which advises courts on the appropriate punishments within the range set out by Parliament, said it was proposing a starting point of a community order for people who allow a dog to cause injury while it is out of control.
However, it said there should still be a wide degree of discretion.
The maximum sentence is two years.
People convicted of the lesser offence of possessing a banned dog should face a fine, said the council, with jail reserved for only the most extreme cases.
The council said that courts should order a dog's destruction unless it is satisfied that the animal would not pose a risk to the public, such as through muzzling and control at all times. Courts need not automatically consider destroying a dog in minor cases.
The guidelines do not cover people who deliberately use dogs to attack because those incidents should lead to prosecutions for assault or more serious violent crimes.
The Dangerous Dogs Act 1991 has long been one of the most controversial pieces of legislation on the statute book.
Critics accused the then government of rushing it into law under media pressure and that it has failed to achieve its aims.
A government consultation in 2010 revealed the public to be still sharply divided on the law.
The key offences under the Act are: a dog dangerously out of control, causing injury; a dog dangerously out of control; possession of a banned dog; breeding, selling or exchanging a banned dog.
But the Sentencing Council said its proposals, which would not apply to Scotland or Northern Ireland, would help magistrates who have to deal with the vast majority of cases brought before the courts.
Anne Arnold, district judge and a member of the Sentencing Council, said: "We want to ensure that irresponsible dog owners who put the public at risk are sentenced appropriately.
"Our guideline gives guidance to courts on making the best use of their powers so that people can be banned from keeping dogs, genuinely dangerous dogs can be put down and compensation can be paid to victims."
The Sentencing Council's consultation closes on 8 March 2012.