Badger cull to stop bovine TB to be trialled in England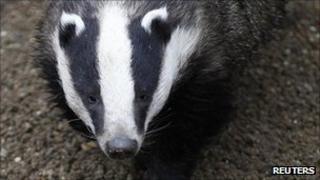 Badger culling will be tried out in two areas of England in the new year in an attempt to tackle bovine TB in cattle, the government has said.
Environment Secretary Caroline Spelman said a decision would be made after the trials in yet-to-be-decided locations on extending it across the country.
"Evidence shows that unless we tackle the disease in badgers we'll never eradicate it in cattle", she told MPs.
"We need to stop it spreading, bring it under control and eradicate it."
Strong feelings
Mrs Spelman said she knew there was "a great strength of feeling on the issue" and realised how much opposition there was to a cull, but action had to be taken before the situation got worse.
"We can't escape the fact that the evidence supports the case for the controlled reduction of the badger population in the areas affected by bovine TB," she said.
"The impacts of this terrible disease also show us that we need to act now. We cannot keep delaying. Having listened to all sides of the debate, I believe that this approach is the right one to make."
Mrs Spelman told the House of Commons that nearly 25,000 cattle were slaughtered in England last year because of bovine TB, and over the next 10 years the cost to the taxpayer was set to reach £1bn.
An extra £250,000 would be made available each year for vaccinations but the animals would have to be trapped and caged before a vaccine could be injected.
Animal cruelty?
Opponents argue that shooting badgers is unnecessary and cruel and that there should be more focus on developing TB vaccines.
Paul Wilkinson, Head of Living Landscape for The Wildlife Trusts, said: "A badger cull is the wrong tool to address this serious and complex problem and a distraction from other measures to tackle bovine TB.
"An industry-led cull with open shooting in the countryside is untested and these pilots will not provide a scientific evaluation of the impact on bovine TB.
"The government's priority should be preventing transmission of the disease on-farm, through improved biosecurity, badger vaccination and making swift progress on a cattle vaccine."
Mrs Spelman said that an oral vaccine was "still years away" and it was impossible to say when it would be available.
'Terrible disease'
The government hopes the cull will lead to a 16% reduction in bovine TB.
Shadow environment secretary Mary Creagh also criticised the plans for their potential costs to farmers, saying that they "depend on farmers hiring people to free shoot badgers at night".
The method "had never been scientifically assessed as a way of controlling bovine TB", she added.
But the NFU President, Peter Kendall, said he commended Defra's decision.
He said: "We must tackle this terrible disease, a disease that sees tens of thousands of cattle destroyed each and every year.
"The most recent science shows badger controls are absolutely necessary, together with cattle controls, to get on top of TB. No other country in the world has successfully tackled this devastating disease without first addressing the reservoir of TB in the wildlife.
"However, I want to remind everyone this has never been about eradicating badgers; this is about eradicating disease."
Opposition groups claim to have gathered 100,000 signatures for petitions opposing the policy, and plans have been announced to mount a legal challenge.
Marina Pacheco, from the Mammal Society, said: "The government has based its culling policy on flawed science, while proper research seems to have been disregarded in the lurch towards a policy fix."
Mark Jones, of Humane Society International UK, criticised Defra for backing the culls despite "compelling scientific evidence that it will be ineffective, hugely damaging to local populations and cruel".
It plans to challenge the trial on the grounds that it breaches an international convention on wildlife conservation.