Investigating why people burnt down my family business
By Maurice Reeves
Owner of Reeves Furniture, Croydon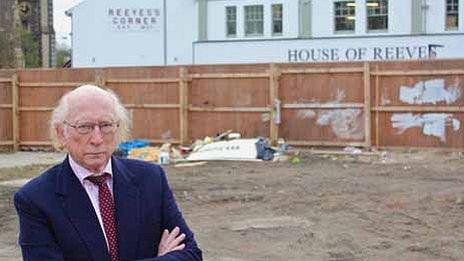 After his furniture store went up in flames during the London riots, 80-year-old Maurice Reeve came out of retirement to lead his family business through the crisis, and he also set out to find out how a town he had always thought so safe, could descend into arson and looting.
I never thought in a million years my shop, which had stood for 145 years, would be brought to the ground. I felt helpless, sad and physically sick. Afterwards I was interviewed by TV crews from around the world and said on the news that even Shakespeare could not put into words just how awful I felt.
I was totally unaware what was going on in Croydon that night.
It was my wedding anniversary and I was up in London at the National Gallery with my wife and we had a lovely meal out. I came back and put the television on and in the next second there was my building on fire. Those memories are etched in my mind. It was cruel really. They didn't steal anything. It was wanton destruction.
Croydon burned for a further two days, before demolition crews moved in and pulled down my building.
It was devastating to watch the bulldozers in the rubble of what remained of our shop - a cruel blow struck into my heart.
In the aftermath of the riots I became determined to put what had happened behind me and develop what was left of my business. I started immediately with our adjacent shop. I had a clear vision of what I wanted. But also, with the help of a BBC TV crew, I strove to answer the question on everybody's lips - Why?
I met other people who had been badly affected by the riots.
One was a young mum called Charlene who offered to show me the remains of her home. Fire spread from a shop up to her flat and it was now uninhabitable.
The ceiling in her five-year-old son's room had fallen onto where he would have been sleeping, had she not taking him out to see what was going on. She told me she watched people who were looting outside her flat who were laughing and joking as if it was funny.
I also met a couple who run a shop who were physically attacked in their shop and then pulled from their van as they tried to escape. I couldn't believe what I was hearing. It was worse than I thought.
I was so upset by some of what I heard about the riots that I started to doubt whether or not I should try to rebuild my shop in Croydon.
My other worst moment in the aftermath of the riots was when I was taken into hospital with a stress-related complaint, two weeks after the riot. I had so much to do and I willed myself to get out. With the help of my wife we managed to persuade the consultant that I was ok. It turned out to be the right decision.
I was approached by a local community group to meet young people to get their view on why the riots happened. One was a former gang member who has now turned his life around.
They talked about what many saw as problems with stop and search by the police and how they thought criminalising the rioters was a mistake as they would now not to be able to get jobs.
I was highly impressed with their frankness with me. One wrote to me afterwards explaining in more detail how unhappy he was with being stopped and searched. It was beautifully written. I wrote him a letter back for him to carry around and show to police if he had been stopped saying that he knew me.
He came down to the little opening of the shop we had recently and I want to keep in touch with him.
I also talked to an 18-year-old doing community service for looting a shop he happened to walk past that had already been broken into.
"Your adrenaline takes over you when you see someone else doing it," he said.
"You see someone walking down the road with a flat-screen TV in their hand and then you see a shop window broken and you're going to go in."
He told me was sorry for the people whose shop he took things from and admitted his big failure was he didn't think twice before entering the shop.
Thinking back, if I was 17 and saw people taking things, I might think that's a normal type of thing and join in but I don't think so - I think I would have stood away. I can understand the other side but I can't understand them burning the shop down as they didn't get anything out of it. It's just wanton destruction.
These people got into trouble very early on in their lives and they need people to pull them out of it, like Pat Reid, a local community leader and business man and Tony Harrison, community leader, school governor and mentor.
Pat and Tony invited me to hand out a sports award at their Black Youth Achievements Awards at a ceremony in Croydon. There were awards for business and enterprise, education, community and technology among others.
I was very impressed by two young achievers who I thought were experienced business people from the way they were talking but had to be informed they were up for a prize.
One young girl I spoke to went to a school where lots of people were excluded and she did badly at the school, but she had turned her life around and had managed to get to Oxford.
Meeting the young people, it made me see much good being done by so many people. Every interview tells a different story. I was impressed, even heartened, by what many of the young people I met said to me.
It's easy to get stuck in a "them and us situation". I believe that good always comes out of bad and this is so very true, as I am optimistic by nature. I think the future of Croydon and its kind people will prevail over a small bad element in our society.
After interviewing so many people, school children, rioters, looters, shopkeepers and people who were even afraid of reprisals, many who were still traumatised from that night, I thought that the appropriate quote was from the US President Roosevelt when Pearl Harbour was attacked: "This day will remain infamous in history".
Well, 8 August 2011 will remain infamous in my thoughts forever.
So how do I feel now? I would not have missed this journey for anything. And thanks to the BBC for giving me the opportunity to express my views. I do hope there will be a sequel to this programme in the future as I have so much more to say.