Computer hackers used by press claims ex-policeman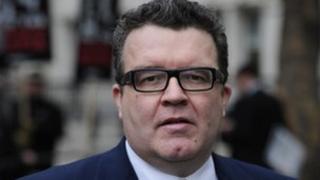 Computer hackers illegally obtained confidential information for the press, a former policeman has told the BBC.
Working as an undercover agent he had regular contact with detective agency, Southern Investigations.
Joe Poulton - not his real name - said the firm supplied information acquired through computer hacking to reporters.
Southern Investigations owner, Jonathan Rees, denies ever selling or providing information obtained through illegal methods.
Former detective Mr Poulton told BBC Radio 4's The Report: "They boasted 'we could get the Queen's medical records if we needed it'".
"There were very few stories, about one per cent, that didn't involve some form of illicit mining of confidential information, breaching the Data Protection Act... nothing was a barrier."
After leaving the police force, Mr Poulton went undercover as a covert human intelligence source (CHIS) for nearly a decade, up until 2006. During this time, he was working on a case unrelated to the current hacking scandal.
He claims some of the hackers used by Southern Investigations, based in south London, had learned how to illegally gain access to computers when they were working in army intelligence.
"There are lots of military people out there with those skills and it's a small world and they all get to know each other," he said.
Jonathan Rees of Southern Investigations says he never sold or provided any information obtained through illegal methods to any third party, including to any journalist.
The BBC has seen a confidential report by the Serious Organised Crime Agency (SOCA), written in 2008, which highlights the problem of 'criminal activities' by 'rogue' investigators, and the lack of regulation.
MP Tom Watson is a member of the Culture Media and Sport Select Committee, and one of the most vocal critics of the telephone hacking scandal.
He told the Report: "This is a hot potato that no-one is taking responsibility for... people close to the investigation think the computer hacking scandal could potentially dwarf the phone hacking scandal."
Undercover agent hacked
In a separate case, it was recently revealed that the MP Peter Hain was targeted in 2006 by computer hackers when he was Secretary of State for Northern Ireland.
The BBC has spoken to another computer hacking victim, who wished to remain anonymous, who has worked undercover as a British agent in Northern Ireland.
He believes confidential details about him and others working in military intelligence gathered from illegally obtained emails could now be in the hands of hackers.
The Metropolitan Police launched Operation Tuleta this summer to investigate computer hacking.
The Met says it is aware of a number of allegations regarding breach of privacy, including computer hacking, and these are being investigated by Operation Tuleta.
The Report was broadcast on Thursday 15 December at 2000 GMT on BBC Radio 4. Listen again via the Radio 4 website or download The Report podcast.