Royal Family plans for Queen's Diamond Jubilee unveiled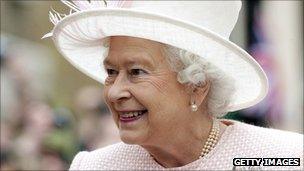 The Queen and the Duke of Edinburgh intend to travel as widely as possible across the UK to mark 2012's Diamond Jubilee, Buckingham Palace has said.
The Diamond Jubilee will mark 60 years of the Queen's reign.
Other members of the Royal Family will visit the 15 other countries where the Queen is head of state, as well as some other Commonwealth countries.
The Duke and Duchess of Cambridge will visit Malaysia, Singapore, the Solomon Islands and Tuvalu.
It will be the couple's second overseas tour following their visit to Canada earlier this year.
The Prince of Wales and Duchess of Cornwall will visit Australia, Canada, New Zealand and Papua New Guinea.
And Prince Harry will tour Belize, Jamaica and the Bahamas.
The prince's overseas visit will be his first solo trip on behalf of the Queen.
It might see Harry take the opportunity to stage a fundraising polo match on behalf of his Sentebale charity.
The Duke of York will travel to India and the Princess Royal is set to visit Mozambique and Zambia.
The Earl and Countess of Wessex will tour a number of Caribbean islands with an extra visit to Gibraltar.
Other travelling royals include the Duke of Gloucester and the Duke of Kent.
The former will head to the British Virgin Islands and Malta. And the latter is set to go to the Falkland Islands and Uganda.
The host countries are likely to hold a range of events for the visiting royals, from official banquets and public celebrations to events that showcase the individual nations.
A Buckingham Palace spokesman said details and timings of the visits are "still under discussion with the host governments".
The Queen will be 86 in April and Prince Philip, who will be 91 next year, has already publicly stated that he is reducing his workload.
The pressure group Republic, which campaigns for a democratic alternative to the monarchy, has announced a series of demonstrations timed to co-ordinate with the official Jubilee celebrations.
These include a protest on the afternoon of 3 June when a flotilla of up to a 1,000 boats, headed by the Queen and senior politicians, will travel along the Thames from Putney to Tower Bridge.
Republic spokesperson Graham Smith said: "The Pageant goes to the heart of what's wrong with the monarchy. It's an enforced celebration of hereditary power, and all the problems that spring from it."
Related Internet Links
The BBC is not responsible for the content of external sites.