Lawrence trial: Dobson 'disgusted' by racist speech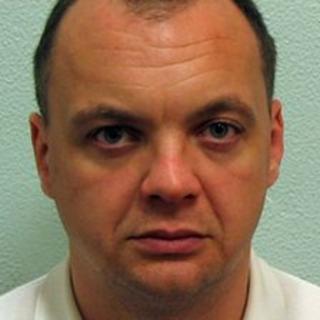 Murder defendant Gary Dobson has told the Old Bailey he was "disgusted and embarrassed" by the strongly racist language he used as a teenager.
Mr Dobson denied any involvement in the murder of Stephen Lawrence and said he was at home at the time.
Mr Dobson, 36, and David Norris, 35, deny murdering Mr Lawrence, 18, in Eltham, south-east London, in 1993.
Earlier, a surveillance video showing racist rants by the two defendants was heard at their Old Bailey trial.
Asked how he would describe his use of the word "nigger" to describe a then workmate in the video, Mr Dobson said: "It's not something I'm proud of."
When asked by his barrister, Tim Roberts QC, why he had used the language, he said: "I don't know why I used [them]. Stereotyping I suppose."
The outburst was caught on a police surveillance video shot over several days, which shows the pair interact with various friends and acquaintances.
At home
Mr Norris was captured using extreme racist and the most sexually explicit language to describe how he would kill black people, people of Pakistani origin and police officers.
Later he went on: "I would go down Catford and places like that I am telling you now, with two sub machine guns."
Using the same racist and sexually explicit language he said he would take a black person, torture them, skin them alive and set them alight.
"I would blow their two arms and legs off and say 'go on, you can swim home now'. They would be bobbing around like that."
One clip showed another man who is not on trial, Neil Acourt, who hid a knife in his jacket before leaving the flat with Mr Norris.
Before the video was shown, Mr Justice Treacy warned the jury: "You may well find it shocking. If you do, you must remember that emotion has no part to play in your decision in this trial."
In the afternoon, Mr Dobson gave evidence in which he said he was at home when Stephen was murdered at 22:30 GMT.
"I stayed in, had some curry, listened to music, played on the computer," he said.
He told the court he left his house to see Neil and Jamie Acourt to borrow a Bob Marley CD and smoke a joint after 23:30, once his parents had gone to bed.
The first he had heard of the attack was when another friend came to the Acourt house with the news, he said.
Racist views
Mr Dobson said he had not worn the jacket with Supertramp written on its back which forms a key part of the prosecution's scientific case allegedly linking him to attack for three years.
He said: "I wore it to school once or twice and had the complete mick taken out of me."
Mr Dobson also claimed that another key exhibit, a cardigan, belonged to his father.
When first interviewed by the police he said he did not know his co-defendant, David Norris, but they had been captured together during surveillance. He told the court he was "stupid" for doing this.
When asked by Mr Roberts whether he had anything to do with the events that led to the death of Stephen Lawrence, he replied: "No I did not."
In cross examination, Mark Ellison QC for the prosecution, asked Mr Dobson about how he appeared as "a violent racist" on the police tape.
Mr Dobson said: "I don't dislike people because of the colour of their skin. I have black and Asian friends to this day."
Mr Ellison asked him about the secret filming adding: "That day you held racist views?"
Mr Dobson replied: "I am not trying to excuse it. I don't think there is no denying it with the words I was using."
He described the language as "banter".
The cross-examination of Mr Dobson will continue on Wednesday.