Lawrence trial: Accused told police he was 'no racist'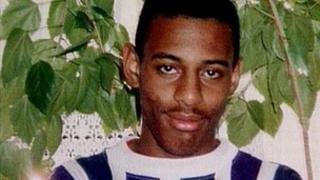 A man accused of murdering Stephen Lawrence told police after his 1993 arrest: "I ain't the murderer and I ain't no racist," his trial has heard.
Gary Dobson also denied knowing his co-defendant David Norris in the interviews, the Old Bailey heard.
However, the pair had already been photographed together by police surveillance teams, the court heard previously.
They deny murdering Mr Lawrence, 18, in Eltham, south-east London, in 1993.
During police interviews following his arrest in May 1993, Mr Dobson, 35, was asked repeatedly whether the name Dave written in his diary referred to Mr Norris. He claimed that they were about a man called Dave Williams.
Later, when the name David Norris was put to him, he denied having ever met him.
Interview transcripts were read to the jury in which Mr Dobson said: "I don't know who you mean. I've heard the name, I've heard the name but I don't know who you mean."
He later added: "I know of a David Norris, I've heard his name mentioned just in conversation or whatever... I've not actually met him."
Murder scene
The jury has already been shown pictures taken by a police surveillance team which showed Mr Dobson with Mr Norris outside the home of brothers Neil and Jamie Acourt, who are not on trial.
Police believed Mr Norris, 36, was at the home of the Acourt brothers when Mr Dobson visited at 23:45 GMT after Mr Lawrence's murder, the court heard.
During house-to-house inquiries Mr Dobson said that he was at home all that evening, but later admitted that he had gone to the Acourts to borrow a Bob Marley CD.
Another acquaintance visited and told them about the murder, which had happened yards from Mr Dobson's house.
When asked why he did not go to look at the scene, Mr Dobson said: "No, it was horrible. What do I want to go to a murder scene for? It's none of my business."
The officer said: "That's why you didn't want to go back, because you were there when it happened."
Mr Dobson replied: "No I wasn't; it's not any of my business what went on there."
Baseball jacket
During the 1993 interview he was also asked about a grey and yellow baseball jacket.
Forensic evidence from the jacket is at the centre of the case against Mr Dobson.
He said it was of "sentimental value" because it had been given to him by a neighbour who was a television presenter.
But he said he had the "mickey" taken out of him because the jacket had Supertramp embroidered on the back and he had stopped wearing it.
During the interview Mr Dobson insisted he had played "no part" in the murder of Mr Lawrence.
Mr Norris exercised his right to remain silent in his police interviews, on the advice of his solicitor.
The trial continues.