Leveson Inquiry: Tabloid journalists defend paper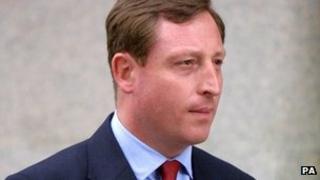 Two of the News of the World's most high profile former journalists have mounted strong defences of their work at the Leveson Inquiry.
Mazher Mahmood, the paper's former investigations editor, said his stories were "totally justified".
Former chief reporter Neville Thurlbeck said all stories, such as those on David Beckham and Max Mosley, were only published if in the public interest.
The inquiry is examining the "culture, practices and ethics of the media".
The hearing also heard that murdered schoolgirl Milly Dowler's voicemail messages were "most likely" deleted automatically. The Metropolitan Police said it did not have evidence journalists deleted messages on her hacked phone.
Allegations that the NoW deleted the messages first appeared in the Guardian newspaper, marking a turning point in the hacking affair and contributing to the taboid's closure and the establishment of the Leveson Inquiry.
'Never entrapped people'
Mr Mahmood, who now works for the Sunday Times, is known for his "fake sheikh" disguise while reporting undercover and gave evidence off-camera to protect his identity.
He was behind the NoW story that resulted in three Pakistan Test cricketers and a corrupt sports agent being jailed in November for spot-fixing.
Giving evidence at the inquiry, Mr Mahmood said his work had led to more than 260 "successful criminal prosecutions".
Describing the process of getting his undercover investigations commissioned at the Sunday Times and the NoW, Mr Mahmood said there was a "regulated" process at both papers.
In essence "they had to fulfil the same criteria" - making sure the source was credible, ensuring the story was in the public interest, and that subterfuge was justified.
The journalist said he had written about 500 stories for the NoW and "a small fraction" involved celebrities, but they "never entrapped people".
The first time Mr Mahmood was aware of phone hacking at the NoW was after the arrest of former royal editor Clive Goodman, he said.
Mr Mahmood told the inquiry he was "proud" that he had jailed paedophiles and drug dealers.
"We risk our lives on a daily basis .. I live under a constant death threat. That's what motivates me."
Phone hacking
Mr Thurlbeck was sacked by News International after being arrested on suspicion of hacking phones while at the paper, something he denies. He is currently on police bail.
Lord Leveson said no questions on phone hacking would be asked: "I am determined not to prejudice any criminal inquiry," he said.
Talking about "kiss and tell" stories, Mr Thurlbeck said a person selling a front page story would normally get £15,000. But he said journalists had to go to enormous lengths to satisfy lawyers that stories were true and for every kiss and tell story that made the paper, 10 did not.
When the paper wrote about footballer David Beckham's alleged extramarital affair, it was decided there was huge public interest because "the Beckhams had been using their marriage to endorse products," he said.
"They were making millions of pounds on the back of that wholesome image and we thought it very important at the time to expose that," he said.
He had spent five months working on the story - including six weeks in Australia, and five or six weeks in Spain - he said.
Asked by Justice Leveson about how much Mr Beckham's former personal assistant Rebecca Loos was paid for the story, he said "a six figure sum. Just." It was the most he had ever paid.
He added, "the kiss-and-tell story is largely dead as a genre" as privacy had become such a big issue.
Nazi orgy
Talking about a NoW article which falsely said an orgy ex-motorsport head Max Mosley went to was Nazi-themed, Mr Thurlbeck said it was the supposed Nazi connotations which initially persuaded the paper it was in the public interest.
Mr Mosley won £60,000 in damages from the NoW in 2008 after a judge ruled that its story had invaded his right to privacy.
But defending the story, Mr Thurlbeck said: ''I think we got the facts correct. The facts are indisputable."
Mr Thurlbeck said his experience of the NoW was it was "highly professional". He added: "It was staffed by some of the best journalists in Fleet Street, who worked with great diligence."
Mr Thurlbeck has been in the spotlight since details emerged of a June 2005 email headed "for Neville".
The email, which surfaced in April 2008, contained transcripts of illegally intercepted voicemail messages, which appeared to contradict News International's previous stance that phone hacking at the paper was confined to a single "rogue reporter" - Mr Goodman.
Mr Thurlbeck has insisted he played "no part" in the matter that led to his dismissal and has lodged employment tribunal papers against News International.
Neil Wallis, the NoW's former executive editor, has also given evidence. He was arrested in July by the Metropolitan Police's phone-hacking investigation team, known as Operation Weeting, and is currently on bail.
It later emerged that Mr Wallis had been paid £24,000 by Scotland Yard to work as a two-day-a-month public relations consultant. His contract was cancelled less than six months before Operation Weeting launched.
Mr Wallis said lawyers had shifted "cleverly" from libel to privacy in terms of challenging the publication of stories.
He said most kiss and tells came from "very distressed and angry young women".
"Revenge is the main motive that I've come across, 'he's used me so why shouldn't I?' and being aware that there is the ability to make money out of newspapers for these sorts of stories," he said.
On the future of newspapers he said: "There are some great newspapers that are going to fold and it's very interesting that newspapers get bought up more and more as egos for very very rich people who will use them as their plaything."
Former cabinet minister Tessa Jowell has accepted £200,000 in damages from News Group Newspapers after her phone was hacked "wholesale" by the NoW. Her lawyers said £100,000 of the settlement would be paid directly to a charity of her choice
A Freedom of Information request by the Press Association has revealed that former Met Police Chief Lord Stevens met former editor of the News of the World Rebekah Wade six times when he was commissioner between 2000 and 2005, and former NoW editor Andy Coulson on at least five occasions. His diaries show he also met various senior executives from national media during that time. Mark Lewis, the Dowler family's lawyer said: "It might be that nothing untoward was discussed but the lack of openness causes suspicion."