UK troops in Afghanistan to get full Christmas dinner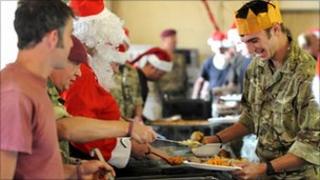 Thousands of turkeys and tonnes of potatoes will arrive in Afghanistan for British troops to enjoy on Christmas Day, the Ministry of Defence has said.
It said three-and-a-half tonnes of turkey and two-and-a-half tonnes of potatoes would be transported to Camp Bastion base to ensure every serviceman or woman received a Christmas meal.
A tonne of Brussels sprouts and 18,000 mince pies are also being sent.
The UK has about 9,500 troops stationed in the country.
The MoD is arranging for 8,225 pork pies, 29,700 canapes, and around 100kg of cranberry sauce to arrive in Afghanistan so that British service personnel in can have a full Christmas dinner with all the trimmings.
There are also providing two and a half tonnes of gammon, two and a half tonnes of potatoes and three and a half tonnes of turkey.
For pudding, troops will tuck into 150 cases of 9kgs of Christmas puddings, as well as boxes of 60,000 After Eight mints and mince pies.
Plans have been under way for months, according to Commodore Clive Walker, who was the officer in charge of joint logistical support - and responsible for orchestrating many of the plans - until he left at the end of November.
"We aim to deliver provisions to provide every UK service personnel and civilian with a Christmas dinner on Christmas Day.
"It is the starkest time, the time you miss your family the most... we can't all go home, in which case we have to try and do something here which is appropriate, which recognises the contribution from the family," he said.
Mr Walker said the right supplies needed to get to the UK's main military base, Camp Bastion, so that they could then be forwarded to all the smaller posts.
He added there is also a "tradition that officers have to serve their men" on Christmas Day.