Lawrence trial: Defence claims contamination risks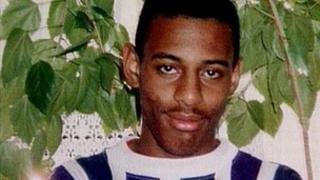 Contamination of forensic evidence in the Stephen Lawrence murder case could have occurred in nine possible ways, the Old Bailey has been told.
Tim Roberts, lawyer for Gary Dobson, said blood flakes could have escaped from Mr Lawrence's clothes and found their way onto the suspect's garments.
On Thursday, forensic scientist Rosalyn Hammond said there was no realistic possibility of contamination.
Mr Dobson, 36 and David Norris, 35, deny murdering the 18-year-old in 1993.
The prosecution alleges they were part of a group of white youths that shouted a racist remark before forcing Mr Lawrence to the ground and stabbing him twice in Eltham, south-east London.
Mr Roberts was questioning Ms Hammond, a scientist from LGC Forensics, who has considered the risks of contamination for the prosecution.
The presence of Mr Lawrence's heavily-bloodstained clothing - "bundled together" by hospital staff and subsequently dried out - meant there was a risk blood flakes could escape and find their way onto the suspect's clothes, Mr Roberts said.
He said the risk was heightened by the way some clothes had been cut from Mr Lawrence's body, producing large numbers of material fibres.
Ms Hammond said the way these items had been handled did not heighten the risk of evidence contamination.
But she said it could have led to fragments of evidence being transferred between the five items of clothing Mr Lawrence had been wearing that night.
Mr Roberts said the fact that packages of clothing had been frequently moved also increased the risk.
"All that travelling and movements" heightens the risk of contamination, he said.
Ms Hammond responded that the "manipulation" of the packaging might be a risk factor, but not necessarily the way they were taken in cars between police stations and laboratories.
'Increased risk'
Mr Roberts cited as another factor the length of the case - 15 years by the time the evidence was reviewed by LGC Forensics.
Ms Hammond said that was not in itself important, arguing that it depended how the exhibits had been handled.
But she acknowledged an increased risk because anti-contamination procedures were not as stringent as today; also because tape seals on bags had come undone.
Earlier Ms Hammond was questioned closely about her reliance on a "paper trail" when considering the risks of contamination, rather than extensive examination of the exhibits.
She felt she generally had all the information she needed, she responded.
She accepted she was not an expert in the science which might lead particles of evidence to move between items of clothing in the lab. But she said as a scientist she did "observe how things behave in a lab environment".
Stephen Batten, lawyer for Mr Norris, said that there would need to be "a lot of coincidences" if hairs found on jeans taken from Mr Norris's house had not got there by contamination.
Ms Hammond said: "I disagree that it's coincidence."
Ms Hammond reviewed the potential for contamination during the investigation, including work done by her colleagues at LGC Forensics.
Mark Ellison, for the prosecution, asked her how she would respond if there were an "unuttered suggestion you bent your proper position as a scientist to favour your colleagues" in her work.
"That's absolutely not true and an insult to my integrity," she said.
Mr Ellison asked if there was any significance in the fact that such a small amount of forensic evidence was found on the clothes belonging to Mr Dobson and Mr Norris.
She said quite a large number of items were examined "and yet evidence was only found on a few of them".
"Despite different histories of each of these items, if contamination was a possible explanation then there may be other items where it might be more likely to have taken place," she said.
Records altered
Ms Hammond had also told the Old Bailey that exhibits in the case were not tampered with even though one officer had deliberately sabotaged his own records.
It would be clear if any packages had been opened without permission, she said.
The jury has already been told that Det Con Paul Steed - who had been in charge of exhibits in the murder investigation - altered his own records after being thrown off the case following a conviction for assault.
The defence claims forensic evidence, found in 2008 in a cold case review and allegedly linking Mr Dobson and Mr Norris to the killing of the black teenager, resulted from contamination.
The prosecution says tiny amounts of blood, fibres, and hair found on clothes taken from the men's homes prove their guilt.
The trial was adjourned until Monday.