London 2012: Chosen Torchbearers shine a light at Tower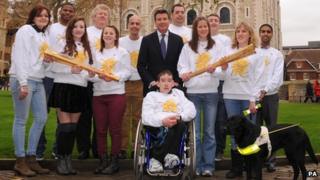 As Locog offered places to thousands of 2012 Olympic torchbearers, some of those who will carry the flame were unveiled in London.
The Tower of London, the capital's riverside fortress, has played host to traitors, doomed princes and ghosts.
But never before has it welcomed a dozen ordinary folk, clad in matching relay sweatshirts and trailing a gaggle of snappers and hacks, who will become London 2012 Olympic torchbearers.
London Olympic organisers Locog on Thursday notified some 6,800 of the 8,000 people who will carry the torch around the UK, as well as the more than 21,000 nominees who were not successful.
The statistics are becoming familiar - on its 70-day journey from Land's End to the Olympic Stadium in Stratford, the torch will come within one hour's journey of 95% of the population, it will take in all four nations, all regions and a smattering of national treasures and landmarks.
But the extraordinary stories of those who will carry it are new, and Locog revealed some of those who will become London 2012 Olympic torchbearers in the Tower's armouries.
They are people who have volunteered in their communities and local sports organisations or raised funds for charities.
Some have overcome medical and personal hurdles which often seem plainly to have been the making of them.
Mick Riding, from North Shields, Tyne and Wear is, at 55, the oldest of the bunch. He was nominated by his wife Annette for his work with the hockey club he set up to provide an activity for, initially, boys, and later, also girls, some from challenging backgrounds.
Rachel Nafzger, 21, from Daventry, Northamptonshire, has brought her guide dog Nikita and a helper to the tower. She is trying to live as independently as possible away from home at university in Plymouth and is a regular volunteer.
She is of course "absolutely ecstatic" to be a torchbearer.
Fresh start
Matt Short from Paddock Wood, Kent, was described by the person who nominated him as "the bravest person I know".
It is only when he points out that it is the prosthetic limb below his right knee that prevents him playing contact sports at present that the full impact of his two bouts of cancer are set out.
He has set up a charity to research his rare form of bone cancer and runs a football coaching scheme for local children.
"It's quite nice to have this as an early birthday present, two days before my 21st birthday," he smiles.
He says he'll have to do some training, post lung cancer treatment, to be able to run the 200-300 metres each torchbearer will cover.
"But it will be pretty special. It will mark a new beginning for me, a fresh start, which will be nice."
Sue Foster took "the phone call that every parent dreads" when her son Cameron, then aged nine but now 16, fell 40ft from a ski lift while on a school trip. He broke an arm and both his legs and dislocated both ankles.
During and since his rehabilitation he has raised £18,000 for charity, plays cricket, football and karate and volunteers with grassroots sports charity Streetgames near home in Wigan.
"I am just absolutely over the moon for him," says Sue. "Really proud of what he has achieved over the last few years.
"I'm sure there's more than Cameron out there who do these wonderful things... but I can't believe how he's turned a tragic accident into something inspirational."
Hard yards
Lord Coe says Locog selectors were "overwhelmed" by the nominations received and the "extraordinary breadth" of stories.
He says the Games will "come alight" for the country when the torch starts its journey - something that feels far off on a dull December day with just over seven months remaining until the opening ceremony.
This in a week when legacy hopes have been dealt a blow as Sport England reports a drop in the number of people playing sport aged 16-19 has fallen and as the government's spending watchdog has warned the Games could overshoot their £9.3bn budget.
They are seven months that Lord Coe admits will be the "tough yards of this competition" and "challenging" to stay on budget.
But his new torch and Olympic ambassadors are on message, all saying they are looking forward to taking the Olympic curtain-raiser through their communities.
"It is top dollar," says Mick Riding. "Put it this way - I remember the 1966 World Cup, and this is going to be bigger than that.
"It really is fantastic. Just to be part of it, it's a once in a lifetime thing."