Evidence from Stephen Lawrence jacket 'not transferred'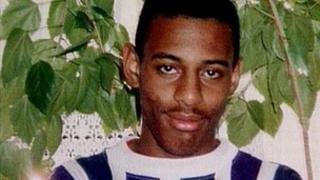 Evidence did not transfer from Stephen Lawrence's jacket and reach murder suspects' clothes while in police possession, the Old Bailey has heard.
Forensic witness Rosalyn Hammond said there was "potential" for material to be transferred while Mr Lawrence's jacket lay on a police station floor.
But there were several steps for it to have reached suspects' clothing and "no possibility" this happened, she said.
David Norris, 35, and Gary Dobson, 36, deny murdering the 18-year-old in 1993.
The prosecution alleges they were part of a group of white youths that shouted a racist remark before forcing Mr Lawrence to the ground and stabbing him twice in Eltham, south-east London.
Miss Hammond told jurors about her investigation of the entire history of exhibit handling since Mr Lawrence was stabbed to death in April 1993.
Mr Lawrence's jacket was laid out on a groundsheet on the floor of Eltham police station to be photographed later that month.
Miss Hammond said there "was the potential" for material like "blood flakes and fibre" to be transferred onto the station floor, and then onto the clothes of suspects which were seized two weeks later.
But she said that such a transfer would involve five different steps, including from the jacket to the floor, from the floor to the outside of the suspect exhibit bag and from there to the forensic lab bench.
She said: "In my opinion, there was no possibility of the evidence which was found resulting from this series of events."
She told the court she had considered - and dismissed - other occasions where the defence say the suspects' clothes may have been contaminated.
Police officers moving between the homes of the victim and one of the defendants may have transferred textile fibres, the defence say. They also point to the time Mr Lawrence's clothes were stored in the same police cell as the suspects' garments.
Miss Hammond also dismissed the theory that a tiny bloodstain on Mr Dobson's jacket was caused by contamination.
The defence has argued that an old dried blood flake got on the jacket via contamination and caused a spot when it was dissolved during tests for saliva.
She said: "In my opinion this explanation is so unlikely as to be practically impossible."
On Wednesday the judge Mr Justice Treacy reminded the jury that the possibility of contamination was key to the case.
The defence claims forensic evidence, found in 2008 in a cold case review and allegedly linking Mr Dobson and Mr Norris to the killing of the black teenager, resulted from contamination.
The prosecution says tiny amounts of blood, fibres, and hair found on clothes taken from their homes prove their guilt.
The trial continues.