Millions turn to payday loans, claim insolvency experts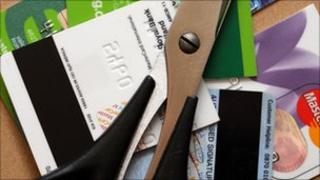 Millions of Britons are likely to take out a high-interest loan in the next six months to last them until payday, a group of insolvency experts claims.
R3, which represents "professionals working with financially troubled individuals and businesses", bases its claim on interviews with 2,000 people.
John Lamidey, of the Consumer Finance Association, which represents payday loan companies, disputed the figures.
Downing Street says it is trying to bring in an industry code of practice.
Some 60% of those surveyed worried about their level of debt, and 45% struggled to make their money last till payday, R3 said.
R3 says the survey reveals money worries at the highest level it has ever recorded, and consumer bodies have called for tougher regulation around payday loans.
'Zombie debtors'
Payday loans are small, short-term unsecured loans designed to tide people over until they get their salary.
The survey found 45% of those questioned struggled to make it to pay day, rising to 62% for 24-44 year olds.
One in six are so-called "zombie debtors", who are only able to service the interest on their debts.
The payday loan companies are now a £2bn-a-year business, says BBC correspondent Andrew Hosken.
If the money is paid back promptly on the next pay day, this type of lending can be cheaper than paying an unauthorised overdraft or a credit card charge.
However, if the loans - some charging interest rates of more than 4,000% - are rolled over, debts can quickly escalate. One woman told the BBC she borrowed £300 and now owes £720.
'Racking it up'
"You can get into a cycle where you're just paying off these little amounts thinking it's manageable, not realising you're racking it up," she said.
But the chief executive of the Consumer Finance Association, John Lamidey, said: "Only half the adult population uses credit at all, so you've got to knock that in half. So I'm really sceptical about these figures.
"They've extrapolated from a very, very tiny sample. Our experience is that 94% of our customers are totally happy with the product that they're getting, 97% say that the loan is totally transparent and 86% say that they would recommend a friend."
Last month the Citizens' Advice Bureau warned the number of people running into debt through payday loans has quadrupled in two years.
It says it is too easy to obtain such credit and it is calling for tighter regulation, along with Consumer Focus, the UK's official consumer watchdog.
'Debt traps'
"We would like to see sensible safeguards put in place to stop payday loan users from getting caught in debt traps," said Sarah Brooks, director of financial services at Consumer Focus.
"Key to this is limiting the number of loans, or roll-overs, that borrowers can take out in a year to five."
But Consumer Minister Ed Davey said tougher measures could push people into the hands of illegal loan sharks.
Sarah Pennells, founder of Savvywoman.co.uk, which offers financial advice for women, says there is a major issue around how companies decide who to give loans to.
"I think that (payday loan) companies would say that a lot of people are taking them out for convenience and they know there's a cost but they just want the money quickly," she told the BBC News Channel.
"Talk to debt advice charities and a very different picture emerges. They say that a lot of people they see who are having problems with payday loans have several loans.
"One charity I spoke to said the average was three-and-a-half loans, some had 10, some had 14. People without any income are being given payday loans (and) people with thousands of pounds of other debts.
"That's where a lot of the concern is really building. How are they checking? Are they checking?"
'Seek advice'
Prime Minister David Cameron's official spokesman said the government was working with the industry and consumer organisations on the issue.
He added: "You have to be careful when intervening in this kind of market that it doesn't have the effect of reducing access to credit for some people, and you need to be careful that you don't drive people towards loan sharks by introducing regulation.
"It is important to get the balance right, but at the same time we are very seized of the importance of protecting vulnerable people."
The Consumer Credit Counselling Service advised payday loans should be treated as a last resort.
"If you do take one out, make sure you can pay in full and on time and never roll the loan over from one month to the next," said Delroy Corinaldi, director of external affairs.
"If you find that you can't repay and have to roll the loan over, it is essential that you seek free advice from a debt charity as early as possible."
Paul Lewis and a panel of experts will be answering emails and calls about debt and borrowing on Money Box Live on BBC Radio 4 at 15:00 GMT. Email moneybox@bbc.co.uk or call 03700 100 444 from 13:30 GMT