Lawrence's hair amongst traces found on murder accused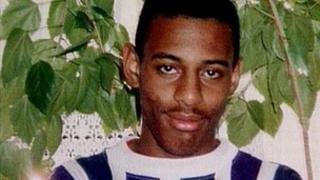 Samples of human hair from 14 people were found on clothing worn by a suspect in the Stephen Lawrence murder trial, a scientist has told the jury.
Deborah Hopwood said Mr Lawrence's hair was among numerous human hair samples found on the clothes of David Norris, as well as 18 types of animal hair.
In addition Mr Lawrence's own clothing contained hair traces from 19 people.
Mr Norris's QC said this suggested hair may have got there by indirect contact rather than being linked to the crime.
Mr Norris and co-defendant Gary Dobson both deny charges of murder relating to the attack which took place in Eltham in South London in 1993.
Forensic scientist Ms Hopwood told the jury that as part of the 2007 cold case review, the clothes of the two defendants had been searched for Afro-Carribean hairs which matched that of Mr Lawrence.
Two matching cut hairs were found on clothing at Mr Norris's house, and sent for DNA testing.
One of them was discoloured and when tested, the substance appeared to be blood, but Mrs Hopwood said it was "too tiny a sample to DNA profile".
Defence QC Mark Gatley told the court there was no way of knowing if the presence of these hairs was down to direct contact between Mr Lawrence and Mr Norris, or because of so-called secondary contact.
"You couldn't exclude the possibility that it had originally been deposited from a different item of clothing and then had been transferred secondarily on to the jeans during the time prior to the recovery of the jeans by the police," he asked Mrs Hopwood.
"Yes that's right," she replied.
On Wednesday the court will hear more forensic evidence from a DNA expert in America, via videolink.
Earlier in the day, Mr Norris's other QC Stephen Batten said clothing fibres linking his client to the murder may mean he had been in contact with the real assailant, rather than necessarily linking Mr Norris to the incident.
Mr Batten spent the morning cross-examining prosecution witness Roy Green, a forensics expert who carried out extensive fibre analysis on the clothes of both the victim and suspects during the cold case review.
"What you postulated to yourself is that he might know one of the real assailants for example, and have gone round to their address?" Mr Batten asked Mr Green.
"That was one of the scenarios that I considered, yes," he replied.
'Many scenarios'
Mr Green identified six fibres alleged to have come from Mr Lawrence's trousers on a top belonging to Mr Norris.
When asked by Mr Batten if the number of fibres found on Mr Norris's top was "low", Mr Green replied "not in the context of the case".
Mr Green had previously suggested the small number of fibres may be a result of the sweater having been washed, but Mr Batten countered "you haven't a clue whether it was washed or not".
"It was offered as one of the many scenarios which I had considered," Mr Green replied.
Fibres were found distributed all over the sweatshirt, which Mr Green said could be as a result of the garment being moved around after it was seized.
He added: "We do have to remember that what we see here is what remains after other fibres have fallen off and so it doesn't necessarily give a completely true picture of what was originally there."
When giving evidence, Mr Green had also said that there was "extremely strong support" for the argument that a further 16 fibres found on the jacket of Mr Dobson came from Mr Lawrence's clothes.
Tim Roberts QC, representing co-defendant Mr Dobson, has also questioned the validity of testing for fibres from Mr Lawrence's underlying garments.
He drew attention to the fact that the suspects' garments were only seized 14 days after the event.