London 2012: Olympics fears over blood transport delays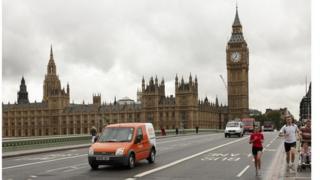 The delivery of blood to London hospitals may be impeded by Olympic transport restrictions, a UK delivery firm has warned.
Increased congestion and restrictions on access, parking and delivery times could cause delays, said TNT Express.
Couriers like TNT supply a third of the 11,700 units of red blood cells sent to 41 hospitals within the M25 each week.
Transport for London said any emergency transportation of organs was done by blue-light vehicles to minimise delays.
Blue-light vehicles will be allowed to use the 30 miles (48km) of Games Lanes in London reserved for athletes, officials, sponsors, VIPs and media during the Olympics to ensure events run smoothly.
NHS Blood and Transplant (NHSBT) - which is responsible for the supply of blood in England and northern Wales, organs and tissues in the UK - said it was considering how to mitigate any risks posed by the additional Olympics congestion.
"This includes moving routine deliveries to nighttime hours, working with hospitals to try and reduce the demand for deliveries and ensuring their vehicles have unrestricted access when making emergency journeys," a spokeswoman told the BBC.
NHSBT also fears blood stocks may be hit by a "perfect storm" dramatically lowering the amount of donated blood during the cluster of major events this summer.
Extra bank holidays could lead to a drop in donations as most people give blood during the working week, it warned this month.
Blood couriers
Approximately 40 organs are transported around London each week, mainly by medical couriers, some of which are blue-light equipped, said the NHSBT spokeswoman.
But while the NHS uses its own specialised cars to deliver most of its blood supplies, couriers like TNT are used for 35% of red blood cell deliveries, she added. TNT said it delivered around 7,800 organs and 50,000 blood packages for the NHSBT each year.
Martin Schulz, TNT Express's project manager for London 2012, told the BBC: "If those deliveries are late, it could put the transplant at risk."
A London 2012 spokesman said steps were being taken to ensure providers of vital delivery services could work with minimum disruption.
The Games Lanes will operate on London's 109-mile Olympic Route Network, which has sparked anger from businesses and residents fearing chaos because of traffic management measures including the closure of side roads, the banning of turns and the suspension of parking bays.
Garrett Emmerson, Transport for London's (TfL) chief operating officer for surface transport, said: "Any emergency transportation of organs or transfusions are done under a blue light, and these vehicles will have access to the Games Lanes on the ORN to ensure they reach their destination unimpeded."
Great Ormond Street Hospital, which is close to both the ORN and London 2012's media hub in Bloomsbury, said it was working closely with NHS London, Games organisers Locog and TfL to minimise travel disruption.
Nighttime code
Industry leaders and London transport chiefs have warned that busier roads and extra transport restrictions during the Olympics meant deliveries to all businesses could be delayed or disrupted if they did not plan ahead.
Solutions included stocking up on non-perishable goods, consolidating their deliveries with neighbouring businesses, or conducting nighttime deliveries, London Transport Commissioner Peter Hendy told a meeting of the Freight Transport Association (FTA) last month.
TNT Express makes 15-20,000 deliveries in and around London each day, to customers ranging from supermarkets to hospitals. Mr Schulz said the removal of loading bays along the ORN and around Games venues meant the only way to guarantee deliveries was by double-manning vehicles.
"That's 67 vehicles a day, and that is going to cost us in excess of £50,000 a week," he told the BBC. "Delivering at night would be fine if everyone in London is open at night - somehow I don't think that's going to be the case."
While the Games are expected to bring a £750m consumer spending boost, freight operators fear likely extra costs of delivering goods overnight could counteract the revenue generated from any Olympics-related deliveries.
Hugh Basham, managing director of DHL Express, Ireland, said such costs would include: extra pay for night-working staff who usually work day-time hours, increased security costs to prevent lorry hijackings and stock theft overnight and extra labour costs at delivery points.
The Olympics and Paralympics are expected to draw 11m spectators during seven weeks, and TfL has published heatmaps showing expected congestion levels during the Games.
With three million additional journeys anticipated on the busiest day, there are concerns London's narrow streets and already near-capacity transport network will not be able to cope.
Quiet deliveries
TfL has issued a draft-code of practice for nighttime deliveries, which advises drivers and those receiving the goods how to work as quietly as possible.
The draft code includes measures like turning off radios and fitting protective coverings to the metal chains on roll cages to ensure that noise levels are kept down.
Businesses including Marks and Spencer recently took part in a 10-week nighttime delivery trial in Kensington and Chelsea, Southwark, Redbridge and Westminster, TfL said. They said revised delivery times worked well with no complaints from residents about noise from deliveries at 0430 GMT.
Lisa Lavia, Managing Director of the Noise Abatement Society, said establishing quiet out-of-hours delivery practices could have significant health and environmental benefits, while lessening daytime disturbances.
FTA chief executive officer Theo de Pencier said he was encouraged by the planning work ahead of London 2012, but appealed to Games organisers Locog for more detailed maps showing restrictions around venues during Games time.
"If businesses - whether they be retailers or transport operators or the pub on the corner - have to jump through so many hoops and change their normal ways of operating to such an extent that it adds significant extra cost then that will be very sad," Mr de Pencier told the BBC.
Critics say Games organisers have not taken the concerns of local people and businesses seriously as they drew up their plans, but Locog counter that they have consulted small businesses throughout the process.
TfL is holding 230 free workshops in London and across the UK over the next three months to help hauliers and their customers keep running during the Games.
Experts will also visit major retailers, pubs and restaurants in hardest-hit areas to give them face-to-face advice.
London's major wholesale markets - New Spitalfields, New Covent Garden, Billingsgate, Smithfield, and Western International - will each be assigned an adviser to ensure customers and suppliers are aware of London 2012's challenges.