London 2012: 10,000 audition for Olympic Games ceremony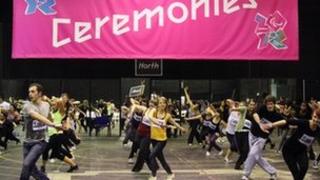 More than 10,000 people have auditioned to take part in the opening and closing ceremonies for the 2012 Olympic Games, organisers have said.
The London organising committee (Locog) said the ceremonies would feature 20,000 volunteer performers.
It is urging more volunteers, particularly men, to come forward.
The ceremonies will have a TV audience of around four billion - the advertising industry estimates this is worth up to £5bn in airtime exposure.
'Enthusiasm and talent'
London 2012 organisers are looking for dancers, actors, percussionists and general all-round performers to have a role in the ceremonies.
Further auditions will take place in the new year, and the London 2012 website said: "We need more men - particularly if you have rhythm!
"This means those of you who can dance but also drum, or do any sport, job or hobby that involves keeping to time."
Previous performance experience is not required, it added.
Locog chairman Lord Sebastian Coe said: "I would like to thank the thousands of people who have come to the auditions.
"The enthusiasm, energy and talent has been amazing and the team are looking forward to restarting auditions in January.
"So, if you have huge amounts of energy and a willingness to perform in front of a stadium audience and billions of people around the world, then sign up to be part of the cast that will deliver great ceremonies to make the country proud and wow the world next summer."
Locog has hired a creative team of British talent to oversee the events, including Oscar-winning film director Danny Boyle as artistic director for the opening ceremony of the Olympic Games.
Take That's creative director Kim Gavin has been appointed artistic director for the closing ceremonies of both the Olympic and Paralympic Games.
'Television history'
Culture Secretary Jeremy Hunt said: "I am incredibly excited about Danny Boyle's amazing plans for London's opening ceremony.
"Four billion people around the world will be absolutely wowed by what they will see at the Olympic and Paralympic opening and closing ceremonies.
"The ceremonies will be the most fantastic advert for everything that is great about our country."
Sir Martin Sorrell, head of advertising firm WPP, said the ceremonies would be "four of the biggest moments in TV history".
"The equivalent advertising value that will deliver for the UK could be up to £5bn, however with regards to perception of London and the UK and a tourism legacy you could say that they will be priceless," he said.