PM says taxpayer trade union subsidies not sustainable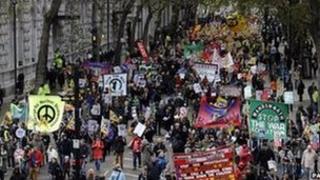 Using taxpayers' money to fund trade union activity while at work cannot be justified "morally or economically", the prime minister has said.
In a letter to Tory MP Aidan Burley, who is campaigning on the issue, David Cameron said the "public subsidy to the trade unions" could not be sustained.
He also said Labour "cannot distance itself from this scandal".
TUC general secretary Brendan Barber said employers valued the contribution unions made in the workplace.
In his reply to a letter from Mr Burley, Mr Cameron said he was pleased the Tory MP had decided to establish the Trade Union Reform Campaign (TURC), which is carrying out research into the number of trade union activists subsidised by the taxpayer.
He said he believed trade unions were "an important part of a free society" and few would take issue with the unions working on behalf of their members in government departments and other public bodies in their own time, or with union funding.
But he reiterated his support for moves to stop the practice of government departments and public bodies paying salaries of staff serving as union officials.
'Scandal'
"At a time when across the private and public sectors people are having to take very difficult decisions in order to save money, it is difficult to justify some people in the public sector being paid not to do the job they are employed for, but instead to undertake full-time trade union activities - much of which should be funded by the unions themselves.
"We need to question why the public is paying for so much and whether this is sustainable going forward," he said.
He added: "I strongly believe the current level of public subsidy to the trade unions cannot be sustained, either morally or economically."
Mr Cameron also said Labour "cannot distance itself from this scandal" and is reliant on the unions for 85 per cent of its funding.
Labour has disputed this figure, saying the party's biggest donor is its membership.
The party said it had gained 65,000 new members since the start of the general election campaign and under Ed Miliband's leadership - so strengthening the party's fund-raising capability.
The TUC's Mr Barber said the last government review of the issue in 2007 suggested that union representatives boosted productivity and reduced absenteeism.
He said it added that public sector union reps give 100,000 hours of their own time every week to the UK taxpayer.
"Successive governments have recognised the moral, legal and economic case for supporting workplace reps - this government would be wise to do likewise and to avoid what appear to be ideologically driven announcements designed to appease right-wing backbenchers."
A spokesman for the Public and Commercial Services Union (PCS) said: "It is extraordinary he [Mr Cameron] doesn't appear to understand how the system works, or understand that representatives - far from being a drain on the taxpayer - benefit the economy to the tune of hundreds of millions of pounds a year in terms of resolving disputes, organising staff training and being involved in health and safety arrangements."