HS2: Government considers new high-speed rail tunnel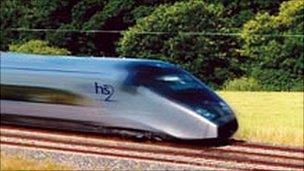 The government is to look again at the HS2 high-speed rail line between London and Birmingham, which could mean a new tunnel being built in the Chilterns.
Transport Secretary Justine Greening will announce a delay in the final decision on the project next week in order to consider whether about £500m could be used for a 1.5-mile tunnel.
Opponents say the planned route crosses an area of outstanding natural beauty.
The Campaign to Protect Rural England has welcomed plans for more tunnelling.
The 100-mile rail link, which would be built between 2016 and 2026, aims to cut the London-to-Birmingham journey time to 49 minutes.
Ms Greening had been expected to make a decision on whether to approve the £32bn scheme before Parliament rises for its Christmas break on 20 December.
But the decision has now been delayed until mid-January as Ms Greening has asked for more information on whether extra funding - estimated at around £500m - could be used to pay for a new tunnel under the Chiltern Hills beyond Amersham.
The delay will allow a feasibility study to be carried out, as well as a study of the environmental impact of the proposed route.
The HS2 plans have proved controversial with ministers facing the prospect of a Commons rebellion by MPs whose constituencies straddle the route.
New proposals being considered would see another tunnel being used to link two others, which are already planned, and would prevent scarring the Chilterns, which is designated as an area of outstanding natural beauty.
The decision to look again at the route follows a report by the House of Commons Transport Committee last month, which suggested a re-assessment of the plans to consider the impact and the benefits of HS2.
The government said any changes would be funded by savings made elsewhere on the route.
The Campaign to Protect Rural England said additional tunnelling would be "essential" if HS2 is to be built through the Chilterns and welcomed the possibility of additional funding.
A spokesman said: "We are concerned, however, by suggestions that the additional £500 million will come from cutting back on mitigation measures elsewhere on the route. Just because countryside is not nationally designated does not mean it should not be valued and protected.
"If the government is looking to generate savings to pay for much needed environmental mitigation, it would be better to cut back on the proposed Birmingham Interchange station.
"This would encroach into the Green Belt next to Birmingham Airport and is currently proposed to require major road widening and a huge multi-storey car park."
Kay Maynard, who farms on land that may be affected, says her life has been "on hold" since the day the HS2 plans were first announced.
She would welcome the tunnel and said: "The double tunnels come up - after 9km - about 75m from where we were going to build our dream house, and it cuts the farm completely in two with no access, as far as we're aware, for us to continue farming the agricultural land.
"We've got 270 acres here to farm and we won't be able to get to it.
"Our lives have been on hold since the first day they announced it, we've not been able to get on with our lives, so hopefully if it's true about this tunnel then we'll be able to stay here.
"But if they go through with the big cutting then we're not going to be allowed to live here - where do we go from here?" she said.
Shadow transport secretary Maria Eagle said: "By accepting that the current proposals on the table are not right, the government has opened up a real opportunity to get this vital project right.
"It's a welcome start but ministers should now go further, stop being dogmatic and use this pause to finally take up our offer to work together on a long-term strategy for both high-speed rail and aviation."
Related Internet Links
The BBC is not responsible for the content of external sites.