Church of England bans hosting civil partnership ceremonies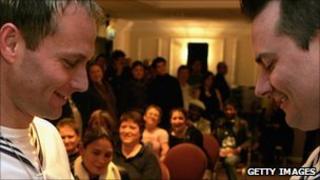 The Church of England will not allow its churches to be used for civil partnership ceremonies unless the full General Synod gives consent, it says.
A new law which allows civil partnership ceremonies to be conducted in places of worship in England and Wales comes into effect on Monday.
The Church said it would not host them just as a "gentlemen's outfitter is not required to supply women's clothes".
The government said no religious group would be forced to hold ceremonies.
In a letter to the general synod - its national assembly - secretary general William Fittall wrote that no Church of England religious premises would be allowed to host the registration of civil partnerships unless they had written permission from the General Synod.
The legal office of the Church says this move does not constitute unlawful discrimination under the Equality Act as marriage and civil partnerships are different services and so legally distinct concepts.
It says: ''A gentlemen's outfitter is not required to supply women's clothes. A children's book shop is not required to stock books that are intended for adults. And a Church that provides a facility to marry is not required to provide a facility to same-sex couples for registering civil partnerships.''
The legal office added that if legislation was changed to allow same-sex marriage, this issue would need to be re-addressed.
Gay rights campaigner Peter Tatchell is urging clergy to defy the ban, which he described as "dictatorial and homophobic".
He said it was "ironic" that the government was allowing civil partnerships in religious premises, but continuing to ban religious gay marriages even if a faith organisation wanted to conduct them.
Mr Tatchell said it was an "infringement of religious freedom" and accused the equalities minister of supporting discrimination.
When the law was approved, Equalities Minister Lynne Featherstone said no religious group would be forced to host them, but those who wished to could apply by the end of the year.