London 2012: Paralympics awarded Lottery grant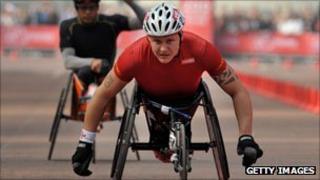 The 2012 Paralympic Games in London will benefit from a £66m payout from the National Lottery.
The grant will be used to help stage the Games, which run from 29 August to 9 September next year and feature around 4,200 athletes in 20 sports.
Olympic Lottery Distributor chairman Dame Janet Paraskeva said: "This demonstrates the significance of Paralympic sport in the world today.
"We are pleased to have helped to fund the London Paralympic Games."
Chris Holmes, the London 2012 director of Paralympic Integration, said: "The Paralympic Games will bring inspiration and excitement to the UK and London next year and the public will get to witness sport like never before.
"Support from organisations like the Olympic Lottery Distributor will help us deliver the best Paralympic Games possible."
London 2012 chairman Lord Coe added: "This specific grant will really help ensure that we have a spectacular Paralympic Games."